5 Best Firefox 59 Features with latest update
Firefox has re-branded itself with a new update and its way more than just basic. What looks interesting is an expansive list of features, validating the utility of an otherwise decent browser. Put simply, the new Firefox 59 or as we call it, comes forth with exceptional tweaks to its existing framework, including cyber security compliance, location access and even issuing permissions for releasing notifications. Although the existing version of Firefox supports majority of these enhancements with certain tweaks, the new version comes pre-loaded with each and every feature.
In the subsequent section, we shall analyze the five best features associated with Firefox 59 which can readily make a difference to how individuals perceive browsers.
1. Disabled Requests for Notifications
It often gets irritating when websites keep asking individuals to turn on the site notifications. While most of us block notifications after one time access, Firefox 59 allows us to avoid situations like these. With this browser at the helm, individuals can enter specific commands in the address bar and leave the rest to Firefox.
The required commands include about:config and once accepted, the user needs to click on 'I accept the risk'. The dom.push.enabled option shows up and the individual must readily double-click on the same. This switches the value from True i.e. notification requests to False i.e. permanent discontinuation of messages.
2. Google's Back as the Default
Mozilla's deal with Yahoo for positioning the latter as the default search engine is finally off the charts. Yahoo, being the default search engine, was predominant in Canada and U.S but the new version of Firefox keeps Google as the default without even asking users to make the shift, manually.
3. Cleaner and Minimalistic Layout
Firefox 59 uses cleaner tabs which are flatter as compared to the previous upgrades. This way, users can fit in websites in a clearer manner without wasting a lot of screen real-estate. What stands out is a simplified Firefox icon that showcases Mozilla's inclination towards minimalism.
4. Disabled Location Requests
There are examples of websites asking for the user location, precisely for using GPS facilities. While this might sound helpful for services concerning mapping and weather, there must be a limit to how these permissions must be granted. As mentioned in the initial step, disabling these location requests is possible when the user types in about:config command and searches for the geo:enabled command. Once activated, both the values must be set to false.
5. Disabled Microphone and Camera Requests
The new Firefox 59 betters the feature sets offered by Firefox Quantum by improving upon the Mozilla Sync and even the deployment of built-in tools. In addition to that, this upgraded version also allows individuals to disable microphone and camera requests by going for that about:config approach. Every request that ever bothered the user can be turned off by deploying this command. However for disabling the camera and microphone requests, the individual must find the address bar and look for media.navigator.enabled and even the media.peerconnection.enabled option. These values are synonymous to microphone and camera requests, separately and when the values are set to False— there won't be an issue with these requests.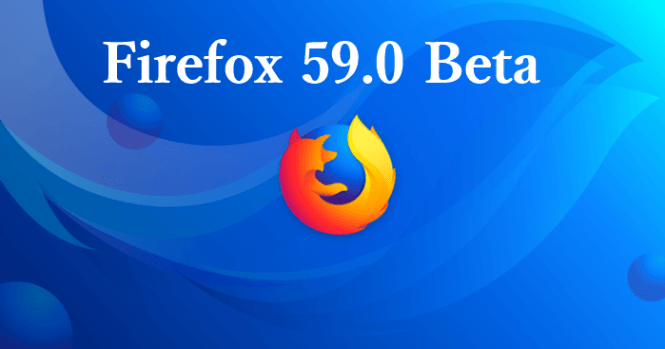 Inference – Firefox 59
We need to prepare ourselves for the grand inception of Firefox 59 which will brace the global scenario, sometime in March. The best thing about using this upgraded browser would be to add controls and even setting the permissions for better location access. The main highlight of Firefox 59 would be the availability of a global setting that concerns blocking sites and disabling them permanently from sending out irritating notifications.
However, none of the existing Firefox Quantum features are done away with on the recent version as it safeguards the likes of Mozilla Sync, the three-course menu at the top and a host of other functional built-in tools. However, what stands out is that Firefox 59 would improve upon the existing sleekness of this browser by further minimizing the issues concerning data splurges and bloated interfaces.
Summary
Article Name
5 Best Firefox 59 Features to Watch Out with Upcoming Update 2018
Description
Firefox development team coming up with a new API with very clean features. Firefox 59 enables users to manage Notifications, Location and Microphone and Camera Requests.
Author
Publisher Name
Publisher Logo