Here is a 'piece' of good news for the ardent lovers of chocolate! The new super food is your very own, commonly available, favorite chocolate- dark chocolate to be more precise. Well, now we can give up being guilty over gobbling up a slab of chocolate because it isn't junk anymore. Apart from being the ultimate comfort food, stress reliever, mood-enhancer and romantic buddy, dark chocolate, with a cocoa percentage of around seventy percent or more is really good for us.
Made from the seeds of the cocoa tree, dark chocolate contains antioxidants, such as polyphenols, and is relatively low in sugar. It is healthier than the other types of chocolate, such as milk and white chocolate. The secret behind its powerful health benefits is cacao, which also imparts the distinct bitter-sweet taste to the chocolate.
Continuous research has already proven dark chocolate to be good for the heart, brain and blood circulation. It is also suggested that it may be beneficial in combating major health challenges like obesity, diabetes and autism. But there are lesser-known reasons for indulging in this bitter-sweet stuff!
So, here are the ultimate health benefits of dark chocolate: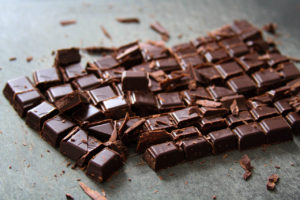 HIGH NUTRITIONAL VALUE
Good quality dark chocolate with cocoa content of 70% or above is highly nutritious. It is rich in soluble fibers, iron, magnesium, copper, manganese and a decent amount of potassium, phosphorus, zinc and selenium. It contains the good kind of fatty acids like saturated and monounsaturated, with small amounts of polyunsaturated and contains stimulants like caffeine and theobromine.
RICH SOURCE OF ANTIOXIDANTS
Dark chocolates are loaded with biologically active compounds like polyphenols, flavanols, catechins, and procyanidins which act as powerful antioxidants. A dark chocolate bar has five times the flavonoids of an apple.
LOWERS THE RISK OF CARDIOVASCULAR DISEASES
Flavonoids in dark chocolates prevent the white blood cells from sticking to the walls of the blood vessels, hence, reducing the risk of clogged arteries. The active compounds in dark chocolate prevent oxidation of LDL (bad cholesterol) and boost up HDL (Good cholesterol). This prevents cholesterol from lodging in the arteries and lowers the risk of heart disease in the long run.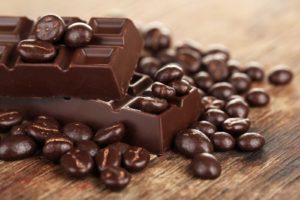 IMPROVES BLOOD CIRCULATION AND LOWERS BLOOD PRESSURE:
Flavonoids in dark chocolates restore the flexibility of the arteries and improve blood flow. It also lowers resistance to blood flow and thereby blood pressure. However, researchers have stated that there is only a slight decrease in blood pressure by the consumption of dark chocolate. Nonetheless, it's a good sign!
HELPS YOU TO LOSE WEIGHT:
 Frequent consumption of small quantities of dark chocolate decreases the BMI. It is far more filling and lessens cravings for junk food.
BOOSTS BRAIN FUNCTION AND IMPROVES EYESIGHT:
Consuming high-flavanol cocoa increases blood and oxygen flow to brain and improves cognitive function in people with mental impairment. It also improves verbal fluency and helps fight against fatigue and the effects of ageing. The increased blood flow to the retina and brain enhances motion detection and reading low contrast reading.
PROTECTS SKIN AGAINST SUN:
 Flavonols present in dark chocolate can protect against sun-induced damage, increase skin density and hydration and improve blood flow to the skin. This, in turn, prevents premature ageing of skin. All the more, a good reason to get that chocolate facial done, ladies!
PREVENTS DIABETES:
 The active compounds in dark chocolate help improve insulin sensitivity and thus it helps to keep diabetes in check.
 9.  REDUCES STRESS AND ENHANCES MOOD:
 Dark chocolate has phenylethylamine (PEA), which is also the chemical our brain secretes when you feel like falling in love! Consuming small amounts of dark chocolate can reduce the stress hormone, cortisol and hence, improve mood.
The only flipside to a good, old, heavenly piece of dark chocolate is that cacao by itself is bitter, hence, milk, sugar, butter etc. are added to enhance the taste. So, dark chocolate is best consumed in moderation and only when it is 70% or more of the total ingredients.
The health benefits that cocoa can provide, especially protection against cardiovascular disease, makes it a wonderful addition to our daily dose of healthy food. Well, the only other benefit that no one mentions is its awesome taste!! Happy indulging!!