Ever since Facebook launched its messenger app on Google Playstore, it has been downloaded millions of times and used regularly by people and businesses everywhere. The app has a lot of features not including its basic objective which is to connect people via a chat box. The app also offers high quality voice and video calling over a data connection which makes it a cheaper option. Bots are also included along with the package which can be discovered using a discover option on the messenger home screen. More than 100,000 developers are associated with the messenger platform and when Facebook decided to launch its newest app, Facebook Spaces, it chose to include Developer rooms which help developers use the app to create a lot of quirks that can be added into the app if Facebook wants to. Messenger itself turned out to be a great success because of the involvement of developers around the world.
Mark Zuckerberg announced today that he was launching an Augmented Reality Platform for developers to help them develop camera effects, With the Facebook Spaces app, Mark realized his dream of Augmented Reality available at the touch of a button. The app is available for Oculus Rift which is an AR supported headset and will allow users to experience a 360 degree view of whatever they watch. It can be anything from a video to an image to even a couple of friends logged in on the same simulation and just hanging out.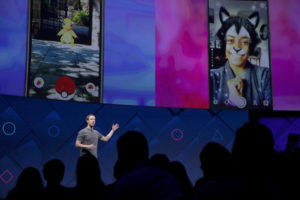 The Camera Effects platform that Zuckerberg announced would help developers create new and special effects for the camera apart from the host of features it is already capable of today. Zuckerberg felt that Augmented Reality camera effects would forever change the way people communicated with each other online. The platform launched on Wednesday includes two products, Frames studio and AR studio.
The first app which is Frames Studio is basically an online creative editor. After the launch, it was made available globally and it allows people and developers everywhere to develop and design new frames which can either be used as a part of the Facebook camera or as a profile picture frame for users of the Facebook app. AR Studio which is the other developer app, is in the Beta stage and open for Beta applications can be used to create a host of other things. The app can be used to create masks and animated frames. It can also be used to create scripted frames and other Augmented Reality technologies that react to movement by the user which makes it easier to use, any changes to the environment or different ways of interactions during Live videos.
Since this app also has the mark of Facebook on it will obviously become a huge success towards using futuristic technologies.