An interesting travel adventure story by Jonathan Quinonez :
Every human being has a sense of urgency to travel the world and see the sights we've always wanted to see. A lot of people fulfill their wishes by going on world tours. One such man is Jonathan Quinonez. What is interesting about him is the fact that he has a worrying mother who needs to be constantly updated on his status. Jonathan does this by drawing and holding up huge cards which read 'Mom, I'm Fine' He makes these cards at each new place he goes to or new activity he does and clicks a photo holding it up and posts it on his Instagram where his mother can check it out.
Jonathan is a 27 year old model from Brussels who quit his job because he wanted to tour the world and gain some life experiences. He has been travelling the world since he quit his job and his biggest concern is his mother. His mother worries for her son just like any other mother does and her son has found an awesome way to keep her updated. This unique way of telling his mom that he was fine took the world by storm and Jonathan went viral on Instagram. Jonathan now has close to 52,000 followers on Instagram owing to his quirky photos. The irony of his photos is the fact that he clicks his photos sometimes in risky places while holding up cards that say he's fine. Jonathan started his journey from Latin America because he feels Cuba is changing rapidly beyond recognition and he has to visit before then.
Places that Jonathan Quinonez visited :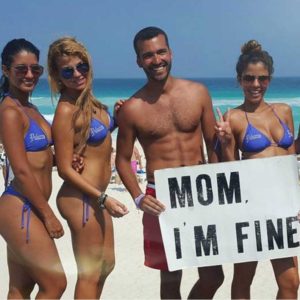 In the various beaches Jonathan has visited till now, he has even been able to get the help of bikini clad women to pose for his photo in which he holds up a large sign which reads 'Mom, I'm Fine'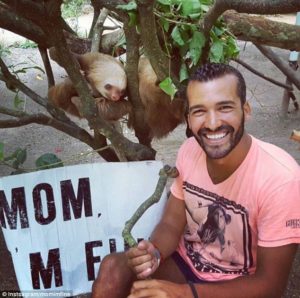 In Costa Rica Jonathan took the help of a sloth to get his message across and even posed with the Colombian army while in Cartagena.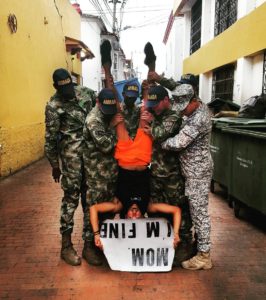 Quinonez has also taken a picture right next to a crocodile!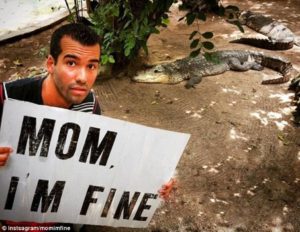 Quinonez posted a picture of him skydiving out of a plane while holding up his trademark sign which reads 'Mom, I'm Fine'.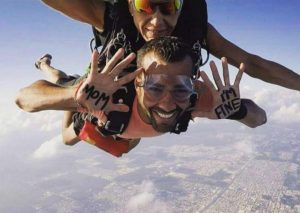 In an interview with MailOnline, Jonathan told reporters that since the communist party had increased the price of phone calls, he had to resort to a different way to inform his mother which is where this way of taking pictures started. Jonathan revealed that he took pictures in scary and funny situations on purpose to scare his mom and give something for his followers.