Permanently Delete your Instagram Account: Are you getting tired of using social media all day and want to take a break? Want to spend some cool time with your family without using social media? Then the best way is to delete or temporarily disable your social media account. Today, In this article we will share the steps to permanently delete your Instagram account.
Instagram is very popular social media app nowadays. Some people messaged me to write a post on How to permanently delete the Instagram account?
There are several reasons to permanently delete the account like someone have hacked your account or you spent a lot of time on Instagram. Whatever can be the reason. So, without wasting time let's see How to permanently delete the Instagram Account?
Delete Your Instagram Account
Remember, Once you permanently delete your Instagram account then you will lose your every data and you will not be able to recover your account with that username again. So, before proceeding make 100% sure that you don't need that account anymore. Once it is done, You will not be able to recover it.
Steps to delete your Instagram account permanently are given below:
Go to this Link from your mobile or PC
Log in to your account
From the drop-down menu, Select the reason for deletion of an account. This is compulsory to proceed to next step.
You have to enter your password again 
After that click on Permanently Delete My Account button below. 
You are done. Your Instagram account has been deleted permanently now. All your data and everything has been deleted permanently. There is no other way to recover that data. So, before deleting your account permanently you should take the backup of your data using third-party apps.
Must Check: how to repost videos on instagram?
Disable Your Instagram Account
Sometimes you need a break from Instagram, Facebook and all. So, At that time you can temporarily disable your Instagram account. If you disable your account, No one will be able to see your profile on Instagram. You can reactivate your account using the same username and password to access your account again.
Steps to disable instagram account:
Visit Instagram.com
Login with your account
Tap on Profile icon on the right side
Tap on Edit Profile
Scroll to the last and Tap on  Temporarily disable my account 
In the drop-down, menu select why are you doing this?
Enter your password again 
Finally, Tap on Temporarily disable account. 
Are aware of this poll feature of instagram? Do check our post on how to vote on instagram polls?
Trouble Logging In
If your account is hacked then you will not be able to log in with the same id and password and without logging in to the account you will not be able to disable your account.
Now, you can follow these steps to get your password:
Launch the Instagram app
Just below the login details Tap On Get help signing in  
If you are android user then Use username or email, Send an SMS, or Log in with Facebook.
After that follow the steps according to the option you opted
Now, If your account is hacked then you will not be able to continue with this procedure. So, Tap on Need more Help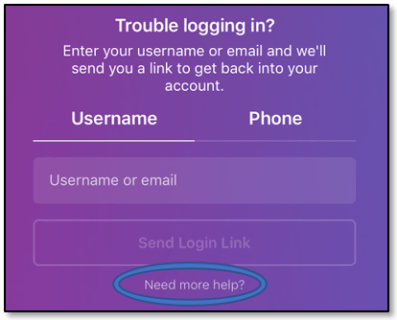 Now, you can tell instagram that your account is hacked and also mention your old passwords and some information that proves that you are the owner of that account.
This is all to delete the instagram account properly. Using these steps you can easily disable your instagram account and still if you face any problem then please let us know in the comments. You can also email us your query. Hope this article is helpful for you. For more informative articles like this visit our website daily and don't forget to subscribe to our newsletter.
Summary
Article Name
Steps to Permanently Delete Instagram Account
Description
Complete steps to permanently delete the instagram account.
Author