GENRE: Action, Drama

DIRECTOR: S S Rajamouli

CAST: Prabhas, Rana Daggubati, Anushka Shetty, Sathyaraj, Tamannaah, Nassar and Ramya Krishnan

RUN TIME: 2 hrs 48 Minutes

RATING: 4/5
Baahubali-2 – Synopsis:
The story takes recourse from where it left in the prequel. The story revolves around the royal cousins Amarendra Baahubali (Prabhas) and Bhalla Deva (Rana Daggubati). Rajmatha Shivagami Devi (Ramya Krishnan) of Mahizhmati who is the real mother of Bhalla Deva prefers her adopted son Amarendra as the heir to the throne because of his innate goodness, bravery and love for his subjects. This creates jealousy amongst Bhalla Deva who along with his handicapped father (Nassar) conspires to overthrow Amarendra and gain control over the Kingdom. They manipulate Kattappa and Shivagami to achieve their motives.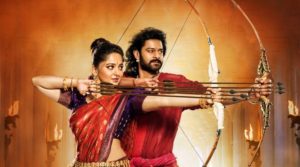 Review:
The story narrates the origins of Baahubali's father, who was originally meant to be the King of Mahizhmati. The clash between warring princes Baahubali (Prabhas) and Bhalla (Rana Dagubatti) is the fulcrum around which the film revolves.
It is a visual and auditory extravaganza that movie buffs must feast on. Part 2 carries the Part 1 on its shoulders and ups the quotient delivering the same storytelling experience if not better. Action scenes are a treat to the eyes. Seldom do we expect such well-crafted action scenes from Indian cinema. Prabhas needs to be applauded for his fine portrayal of father and son. M M Keeravani's background music gave me chills during some scenes.
Frankly speaking, Rajamouli has done it again. He has drawn the crowd over with his style of cinema. If you found Bahubali-1 as a visual treat with songs like Dhivara, which still garners a string of reaction videos from You Tubers all over the world, then you won't be disappointed. Baahubali-2 is bigger, louder and better in terms of visual effects. It is also the first Telugu film to be released in 4K High Definition format.
The romance between Devasena and Amarendra has been captured beautifully. This sequel also puts an end to the grand old question which was on everyone's mind, as to why Kattappa killed Baahubali.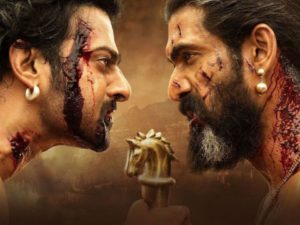 The movie overall is a good watch. There are many scenes which get the audience to the edge of their seat and there are some brilliant performances by the lead actors. The only drawback is that some scenes could have been edited out to reduce the mammoth run-time.
A must watch for all Baahubali fans and those who appreciate good cinema. Just a suggestion! Do not go with any preconceived notion and just let Rajamouli spin you into his story telling. You won't be disappointed.