Genre: Romantic comedy

Director: Stella Meghie

Cast: Amandla Stenberg, Nick Robinson, Anika Noni Rose, Ana de la Reguera

Runtime: 1 hr 36 mins

Rating: 3.5/5

Everything, Everything – Synopsis
It is the story of the sweet love that blossoms between 18 year old Maddy and her new next door neighbor Olly. So what is special about it? Maddy has an illness called severe combined immunodeficiency (SCID) that practically has her live within her room for the past 17 years. Her immune system isn't strong enough to fight off even the weakest of viruses or infections. Then enters her new neighbor Olly who belongs to a dysfunctional family and is exactly opposite to what she is – sheltered. What happens when love blossoms between the two of them? They can't even touch each other. Will Maddie's over protective mother allow them to get together? What happens when Maddie decides to seek freedom and experience life in the real sense? Watch the movie to find the answers.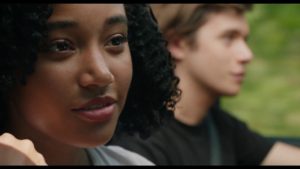 Review
Yet another clichéd love story. Yet, the way it is picturized makes us root for the pair of star crossed lovers. The separation of a glass wall between the two adds to the charm of the story. We also feel scared for her when Maddie escapes from her house and goes off to Hawaii with Olly. The climax is something predictable given that a romcom has to be just that – a movie with a happy ending.
Yet there are a few loopholes that are not explained well in the movie – like how Maddie who has never been outside her house obtained a photo id. Yet the story moves forward from Maddie's point of view just as in the book it is based on.
The movie is a little slow paced and does not engage us completely. Yet as far as romantic comedies go, it is a feel good movie for young adults.