Genre: Sci-fi Comedy

Director: James Gunn

Cast: Chris Pratt, Zoe Saldana, Dave Bautista, Vin Diesel, Bradley Cooper, Sylvester Stallone, Kurt Russel

Runtime:  2 hours 18 minutes

Rating: 4/5
Guardians of the Galaxy Volume 2 – Synopsis:
In Volume 2 after being established as the Guardians of the Galaxy, the Guardians are charged with protecting some precious batteries from invaders for the Sovereign. The Sovereign later learn that the Guardians have stolen some of the batteries and chase them. During the chase, Peter's father reveals his parentage which forms the rest of the story.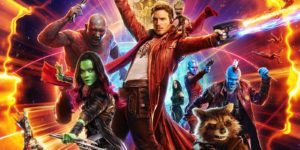 Review:
Keeping in line with Volume 1 of the Guardians of the Galaxy, Volume 2 is also chock full of pop culture references which make it a great movie overall. The director, James Gunn has done a marvelous job adapting the characters from the comics to the big screen. He has presented an almost original story line. The selection of songs is also quite impressive as they subtly point to various pop culture references.
The movie is also full of comedy mainly triggered by Dave Bautista's character. This movie excels in the fact that it talks about each character in detail and gives each of them places where they can shine. It shows us that this movie is not a single superhero movie but stars a bunch of superheroes fighting together.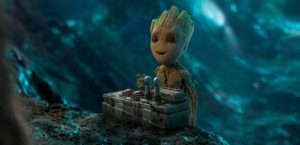 In this movie, we can also see Star Lord and Gamora exploring their relationship a bit further. It also features Nebula, Gamora's sister telling her why she hates Gamora and wishes to kill her. Later in the movie, they unite to fight together and Nebula is dead set to kill her father, Thanos.
This movie was a bit unusual for the 5 post credits scenes it had in total. Some of them were really unnecessary while the others have set up a theme for the third volume. The one thing to take away from the movie is its dedication in keeping it like an 80's movie just like the previous one. This is specially brought through with the song selection. The characters seem fresh even after a movie and the comedy is something to look out for.