Genre: Revenge Drama

Director: Ashtar Sayed

Cast: Raveena Tandon, Madhur Mittal, Divya Jagdale, Rushad Rana and Anurag Arora

Run time: 1 hr 52 mins

Rating: 3.5/5
Maatr -Synopsis
Vidya Chauhan (Raveena Tandon) is a school teacher at Delhi. She and her daughter Tia (Alisha Khan) meet with an accident involving the Chief Minister's spoilt son Apurva Malik. He and his friends who are drunk and high on drugs then proceed to gang rape both the mother and the daughter. With her daughter murdered and with no support from her husband who divorces her at this juncture, Vidya Chauhan embarks on a journey to get justice for her daughter's rape and murder. Realising that justice at the hand of law is not possible, she then plots to kill those who committed the atrocious crime.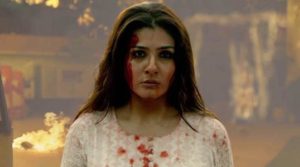 Review
The story is set at Delhi, which is known in recent times as a rape capital of India. The movie is in a way a wakeup call to show that after over four years since the Nirbhaya incident occurred, the capital city is still not safe for women. This movie being released a few weeks before the sentencing of Nirbhaya case convicts is sure to find a receptive audience.
While the story is nothing new to the Indian audience, the movie is a must watch for the splendid performance of Raveena Tandon who makes a comeback after almost 11 years. She has left an indelible mark through yet another women-centric movie that has hit the theaters. It leaves the message that women are no longer to be regarded as mere sex objects.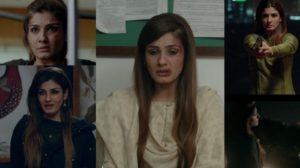 While the mother taking revenge upon her daughter's murderers, the scenes are a little too gory. It also makes one wonder whether it is so easy to plot and commit murders on this scale.
The background score could be better. For a debut movie, Ashtar Sayed has a done a good job.
This is a must watch movie for Raveena Tandon's performance.