Genre:

 Comedy, Adventure, Action



Director:

 Espen Sandberg and Joachim Ronning



Cast:

 Johnny Depp, Javier Bardem, Geoffrey Rush, Kaya Scodelario, Brenton Thwaites



Run time:

 2 hr 33 mins



Rating:

 3.5/5
Pirates of the Caribbean: Salazar's Revenge (3D) – Synopsis
Captain Jack Sparrow (Johnny Depp) is back again with his witty comments to entertain us in this fifth instalment of the Pirates of the Caribbean series. This time, he has to face yet another formidable foe – pirate hunter Captain Salazar (Javier Bardem). He seeks the help of an astronomer (Kaya Scodelario) and young sailor (Brenton Thwaites) to solve their problems by retrieving a mysterious artifact that that can break any curse at sea. Why is Captain Salazar hunting Captain Jack Sparrow? Does the alliance between Sparrow and the others prove to be successful? Do they defeat Captain Salazar? Watch the movie at the silver screen to find out.
Review
Johnny Depp and Geoffrey Rush reprise their roles while Orlando Bloom and Keira Knightley appear in cameo roles. Javier Bardem is the new addition to this franchise. He excels himself in the role of Captain Salazar, yet another ghost with his zombie crew who is out to seek revenge on Captain Jack Sparrow. While the climax is too long, we can forget that while we enjoy yet another Pirates movie with Depp's goofiness and wit that has us in splits and Bardem's scintillating performance. Kaya Scodelario provides the glamor quotient for the movie with her drop dead looks. There are lots of thrilling chase sequences, always exciting sword fights and underwater special effects in 3D that has us watching the movie with a lot of interest.
Those of us who are hardcore Jack Sparrow fans are in for another treat of his tipsy tone and drawling witty remarks.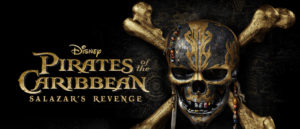 You may also like: James Bond: The steam won't die anytime soon!