Genre: techno thriller

Director: James Ponsoldt

Cast: Emma Watson, Tom Hanks, Patton Oswalt, Karen Gillan, John Boyega, Bill Paxton

Runtime: 1 hr 50 mins

Rating: 3/5
The Circle – Synopsis
Mae Holland (Emma Watson) an ordinary young woman gets a job at The Circle, a powerful tech company that is partly Facebook, partly Apple and perhaps Google. Its co-founders are Eamon Bailey(Tom Hanks) and Tom Stenton(Patton Oswalt). Though she is at first skeptical about the lack of privacy, she soon gets convinced of the ideals of the company after she is saved from an almost drowning situation due to the watchful eye of The Circle. She agrees to wear a camera constantly and live a completely transparent life that is streamed live. Is she okay with this as days go on? Is the company itself as transparent as it advocates? Watch the movie in the silver screen to know the answer.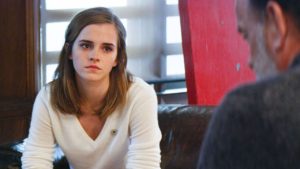 Review
The Circle is yet another techno thriller that reveals the pitfalls of the internet world and the lack of personal privacy it brings with it. It is, in a way, the screen version of The Big Brother. However, it does suck us into the plot where everything is seemingly out in the open with even Mae's parents' private moments being streamed live when she walks into them having sex. Emma Watson and Tom Hanks do make their star presence felt. Though it has its moments, it is predictable that soon the protagonist will rise against the situation she is in. No surprises there!
You can watch it once if you like the genre. Also, don't miss Bill Paxton in his final movie before his death.
[embedyt] https://www.youtube.com/watch?v=GxEzUgoCF3w[/embedyt]