Getting Up Close and Personal with Apple HomePod Smart Speakers
Apple, best known for unveiling high-end electronic gadgets, is finally ready with its ambitious Smart Speaker i.e. the HomePod. With preorders initiating soon, it's time we look closely at this technological innovation and ascertain the positives while keeping a close eye on the negative aspects of this device. Based on official confirmations,
HomePod will go on sale February 9th onwards, at a competitive price tag of $349.
Getting to know the Apple HomePod
Smart Speakers are technological commonplaces and we did see prior examples with Google and Amazon unveiling their own renditions in the form of Home Speakers and Echo, respectively. However, the HomePod comes with a pricier tag and is all decked up with a decent conglomerate of exciting features. While industrial leaders are presuming that Apple has arrived quite late to this game of smart speakers, it must be believed that in order to win, one must be good and not first. However, we are actually concerned about the sub-$350 price point as it's substantially higher in comparison to the existing products.
Features of Apple Homepod Smart Speakers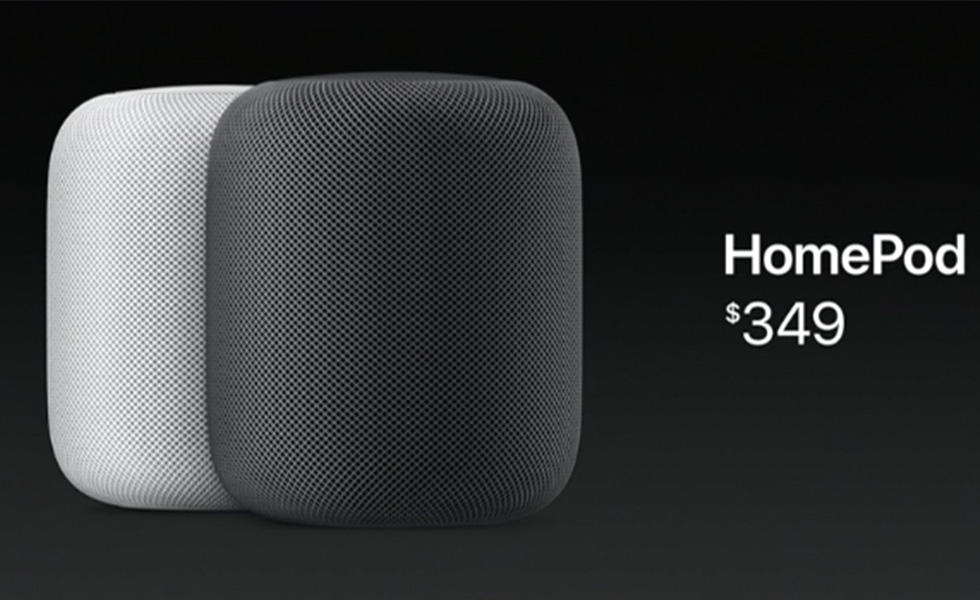 1. Analyzing the Audio Quality
According to Apple, the audio quality on offer will certainly blow away any kind of existing competition. HomePod boasts of seven audio tweeters with each having its own set of customer amplifiers, transducers and individual drivers. Moreover, each tweeter is further enhanced by precision acoustic horns, which in turn facilitates directional focusing. This audio quality, therefore, validates the existing price point as the Google Home retails at $130 with a standalone speaker on-board. Moreover, Amazon's Echo, priced at $100, comes forth with two decently aligned speakers. Not to forget the budget Echo Dot that is priced at $50 and offers a single speaker, accommodated in a constricted manner.
However, the only rendition that stands a chance in front of the Apple HomePod is Google's Home Max Speaker that is high-end and comes equipped with sub-woofers whilst carrying a hefty price tag of $400.
Coming back to Apple's Smart Speaker, HomePod also throws in advanced space-analyzing sensors for detecting physical interferences, if any. Therefore, if a wall or constricted corners are encountered, HomePod directs audio beams towards the same courtesy its exceptional conglomerate of tweeters. Some audio beams are also focused at the centre of the living space for mitigating sound projections towards the walls.
Audio Formats:       HE-AAC (V1), AAC (16 to 320 Kbps), Protected AAC (from iTunes Store),
                                  MP3 (16 to 320 Kbps), MP3 VBR, Apple Lossless, AIFF, WAV and FLAC
If we are to look into the technicalities, Apple's Smart Speakers direct voice and sound towards the middle section of the room and even the walls for creating an ambient environment. Apart from that, we can also experience stereo audio quality by placing two HomePods together, which in turn redirects audio and projects the cumulative beam towards the individual.
In addition to that, HomePod comes forth with a high-excursion and functional subwoofer with a considerable travel of around 20mm. This implies that the gadget can move a lot more air as compared to others, creating higher levels of bass.
Apple has also succeeded when it comes to eliminating distortion by pairing the device with a calibrated microphone. The low-frequency addition automatically tunes the sound and corrects the associated bass.
2. Physical Layout
In terms of colour, Apple HomePod comes in Space grey and White variants. When it comes to the size, this Smart Speaker is 6.8-Inches in height. There is a mesh fabric wrapped around the actual device which is instrumental when it comes to redirecting the audio in a more cohesive manner. This way, the user commands are heard properly even when the Speaker is playing loud music.
Size, Weight and Colour:-    Dimensions:
                                                 172 mm high (6.8 inches)
142 mm wide (5.6 inches)
                                                     Weight:
                                                     Colour:
3. Existing Processor
In comes Apple's A8 chipset, found in iPhone 6 and even the iPhone 6 Plus. While some might consider this chipset to be an overkill for the HomePod, the A8 processor does handle some intricate aspects of this Smart Speaker, including the likes of software modelling in real-time, buffering, beam formation, echo cancellation across multiple channels, woofer mechanics, upmixing and a host of other activities. A8 also brings Siri to the table, which allows the user to achieve almost anything with the Apple HomePod.
4. Connectivity and Overall Setup
Probably the simplest gadget to set up, Apple HomePod is one smart speaker that needs to be plugged in and the iOS device in the room will automatically detect the same. When it comes to compatibility, iOS 11.2.5 or any succeeding version is supported. Apart from that, HomePod can also pair up with Bluetooth v5.0 and Wireless 802.11AC with the MIMO technology on-board. According to latest revelations, calls from the iPhone can also be routed to Apple HomePod. Last but not the least, the AirPlay 2 will support multiple HomePods, allowing them to play and sync must, right across the rooms.
Final Verdict- Apple HomePod
It seems Apple has worked pretty hard on its latest Smart Speaker with massive acoustic improvements added into the scheme of things. While the initial impressions concerning this gadget are pretty good, we need to get our hands on this technological innovation for learning more about the same and also validating Apple's claims.
Also read: Google Home vs Amazon Echo Smart Speakers 
Summary
Article Name
Apple HomePod Smart Speakers
Description
Apple HomePod Smart Speakers features, price, release date.
Author
Publisher Name
Publisher Logo