Chromecast happens to be the most preferable hardware product offered by the google. I feel like i can do anything and there someone who will hear me when i have to do my things. Its amazing features will help you to say along with me that it's the best thing to let chromecast do all your stuffs, playing that particular song or if you want to play that movie, it will do it for you. I mean imagine how good it is yelling at your google and ordering it to change the song while enjoying a bath time, or you working across the house and talking to your google for the playing a certain movie and not even that you can have your favorite food recipe played by it just like someone instructing you to perform the task.
You all must be thinking that if the product google chromecast is so amazing then why i have come up on with the alternatives to chromecast. There are many reasons, reasons not in terms of its performance but in terms of the interface to which many users may find it difficult to connect to the smart TV and play all the useful channels or the channels of your like, this thing is quite confusing for the new users. The reason list doesn't end here, lets see what could the other reasons for finding the alternatives to it.
Why You Need a Chromecast Alternative?
Chromecast is not only made for the purpose of playing videos and music and that too only accessible through your smart phones, but it can also be used for the thing you can play the whole TV shows on your smart TV and don't need your smartphone to be involved in it. Just connect your chromecast device to the tv and use it. But becomes difficult for the fresh users. Earlier i also used to use the chromecast for only music purpose and when tried to access the features, i got very confused and faced many problems regarding it.
Being an old user to the chromecast, i still use it for playing the youtube videos and the songs i ask it to play through my smartphone. I cant switch to the other apps while using the device as creates fuss, hence i only stick to youtube as the primary source you can enjoy the experience. If you can relate yourself to the same problem than its the right time you can have the alternatives for the chromecast. Let's have a look to the 7 next best alternative to the chromecast which can make your other experience worth using them.
Best Chromecast Alternatives You Can Use:
Roku streaming Stick +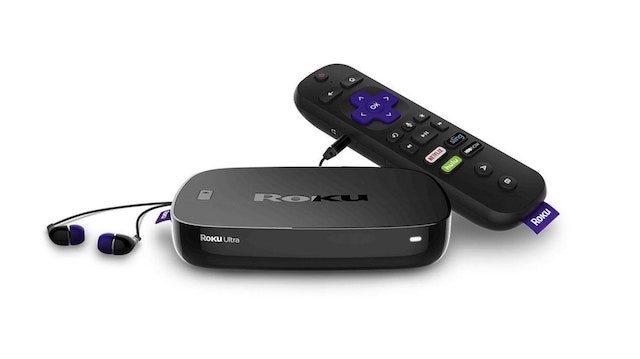 Let's talk about the first alternative to the chromecast is the Roku streaming Stick +,  it is so amazing and can easily leave behind the chromecast in terms or money. You can easily stream 4K HDR videos and can easily be connected to the TV through the HDMI port. In terms of features, Roku streaming stick + is way different as it also offers the different content to your TV in which the chromecast lacks. You can have the simple interface and evvn the roku comes with its own interface hence you dont require to use your smartphone for this.
Other than these you will be handed the remote. Yes roku streaming stick comes with a remote i know chromecast doesn't have any. The remote helps you to handle the TV's power and volume buttons. You can easily control it with the remote. Full with the features, roku offers you the Dolby ATMOS surround sound system which turns your homes into the theatre and offers you a good listening experience. Being the best it is far way better than the chromecast.
Merits :
Simple navigation user-interface

Can get all major streaming channels

TV can be controlled from its remote.

Presented the Dolby ATMOS sound system.
Demerits :
Lacks in voice control

Lags sometimes.
Amazon fire TV cube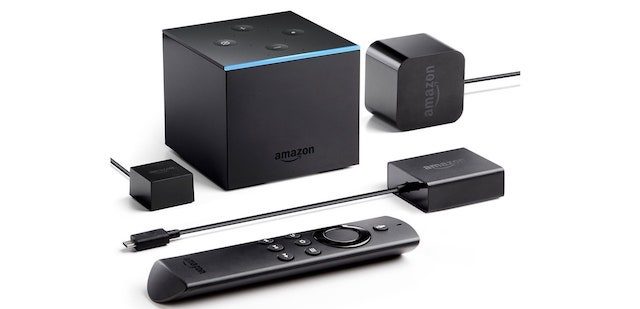 Amazon fire TV cube is the best of all the products presented by the amazon. You can do whatever you want to do and just by your voice control techniques. It is the alexa product of amazon and can control every device connected to it by the statement offered starting with " Alexa" it listens with it. In terms of features you can say that it is way way best in it and can be stated as it is from the features, compatibility and durability mixed of Amazon echo and Fire TV 4k. Just like amazon echo speaker listens to you and recognize you for the faster processing in the future, it does the same with your sound.
Being offered with the whole kit, remote control is not even used as everything from the part of changing the channel for your TV or connecting the wireless gaming console to the playstation everything can be done by this. Just you need to connect that device with it. And if we started talking about the remote it helps you to control the Fire TV cube and aso the power button and the volume control of your TV.
Merits :
Always respond to alexa command.

Able to control the TV, the Sound bar, blu-ray player and many more things.

Amazon prime member can avail many more exclusive features.

It can also control the cable as well as satellite connection of TV.
Demerits :
Cant use youtube.

Cant have the dolby vision.
Amazon Fire TV 4K
I have been with amazon fire TV 4K from last 1 year and i must add that it is the best thing one can use. Even with the help of this you can make your normal ordinary TV a smart one by making it act like. In the series of amazon fire TV stick it happens to be the sensible of all. The alexa product loves to hear you can work accordingly. You have to just plug it to the TV through HDMI port and you are done. The best part using this is that you will be the lifetime amazon prime member for the same. Hence you can look for each and every series online or offline, you can go for all. Amazon fire TV offers its own online store hence you can easily download the streaming apps like netflix, HULU, HBO go etc and enjoy whatever you want.
Its user interface is so sorted that it can easily bring you to use and you will easily get familiar to it. Along with the simple UI it offers the HDR atmos dolby surround sound system which is keen in offering the theatre experience while watching your favorite show. Amazon breaks on the product amazon fire tv stick and came up with AMAzon fire TV 4k, with quad core processor which is 40% more powerful than earlier. In an over all scenario, Amazon Fire TV 4K tends to be next best alternative to chromecast and offers the amazing experience as you can access to various social media and entertaining websites through it.
Merits :
Best in the User interface.

Comes with its own app store.

Alexa voice control

Offer 4K HDR streaming
Demerits :
Youtube has to played through website, no app.

Its remote cannot control the power and volume button of the TV
Roku Ultra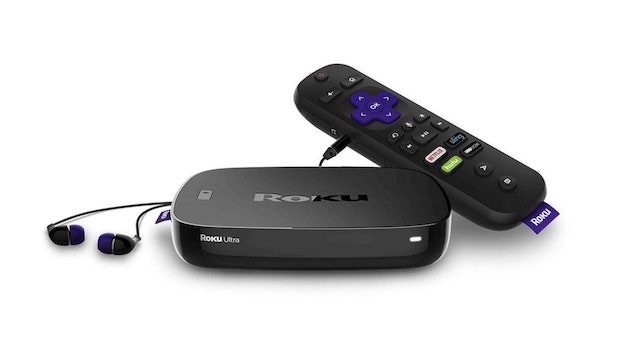 If you are so fond of chromecast or the device like that and money is not a big deal for you than roku ultra would be the right thing for you. As you can have this over roku streaming stick + because it is more powerful, more feature loaded and more can be done through it. Just like in case of amazon TV stick you should prefer AMAZon fire TV cube than it is in roku that you chose ultra over the streaming stick. Let's talk about the difference among the roku ultra and the streaming stick that why you should go for ultra over the other. The main reason is that it is more powerful with quad core processing unit in it and you will never suffer any problem if you don't have any WIFI, the wired connection to the roku ultra will bring the same 4K watching experience to the users.
Other than this roku ultra takes a new feature into it that it comes with the remote control sensor and can control the power and volume control buttons of the TV and also includes voice control in it. There are various other features which you will love to have and stream live in this. You now dont worry when the remote control of the roku ultra got misplaced you can search is easily.
Merits :
All major streaming is supported.

A lot of free content is there.

Simple user-interface

Dolby ATMOs surround sound
Demerits :
Dolby vision not supported.
Nvidia shield TV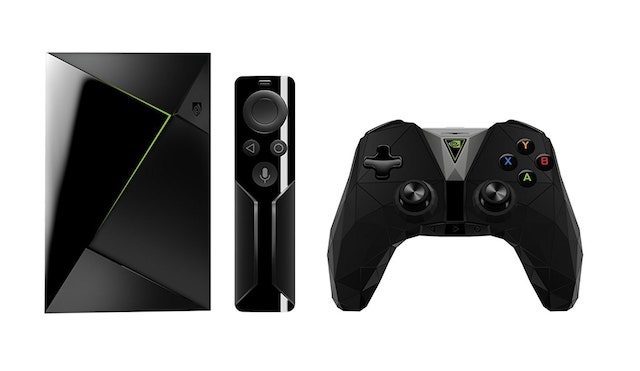 Coming to the next alternative we have Nvidia shield TV. es you all gamers out there, you are getting it very right that this alternative if for the purpose to make your gaming experience even much better with the part you can watch movies and any series on your smart TV with all the gaming controls you ask it to do. It comes with the remote control that sensorize Nvidia shield TV and just you have to connect it with your smart TV, you will get the whole amazing experience of HDR 4K quality picture with dolby ATMOs and DTS-x surround sound system which is neither less to a home theatre. Nvidia shield TV comes with android based play store from which you can download all your applications like youtube, facebook, netflix, HBO Go etc. and can have the amazing viewing experience.
When it is Nvidia then gaming experience is a must go for it, you can have an extraordinary bliss of gaming through Nvidia Gamestream, which allows your games to run on TV from PC. using the Nvidia geforce will help you to restore all the graphics of the game which is quite important from a gaming perspective. So, if you are looking for a product which handles all your gaming needs and the craving of TV then it could be the best part you can have.
Merits :
Offers 4K HDR, dolby ATMOs and DTS-x surround sound.

Supported by Nvidia gamestream.

Cloud gaming service available.

Remote is absent.
Demerits :
Quite expensive.

Accessories are available separately.

Additional subscription required for Geforce.
Apple TV 4K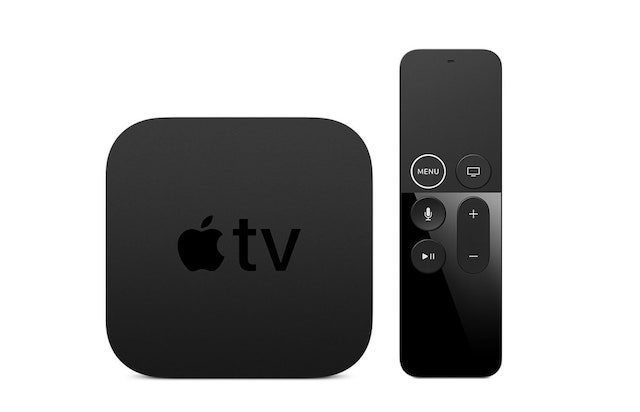 When it's the talk about the innovation in technology then how can apple is behind, brought to you Apple TV 4k. It has the power to bring to you an amazing vue to the apple users. It offers the 4K HDR with Dolby ATMOs and they together presenting you the high quality content. I will suggest my people to go for it if the money is not an option to worry for them. This device is that much powerful that it will handle all your iOS gaming things in a easy way. It comes in two version 32GB and 64GB of the storage built in with 4K resolution.
Another reason that makes Apple TV 4K a great device that if offers the discount in the Blu-ray films as the apple has started bringing studios to it. Its UI is also simple and sorted and that too with siri who takes all your orders and help you out in everything. This user-interface will be helpful to iOS users or i would say that they will love working with it. So, why wasting time and rush to get this.
Merits :
Offers 4K HDR, dolby ATMOs and DTS-x surround sound.

Supported by Nvidia gamestream.

Cloud gaming service available.

Remote is absent.
Demerits :
Quite expensive
Airtame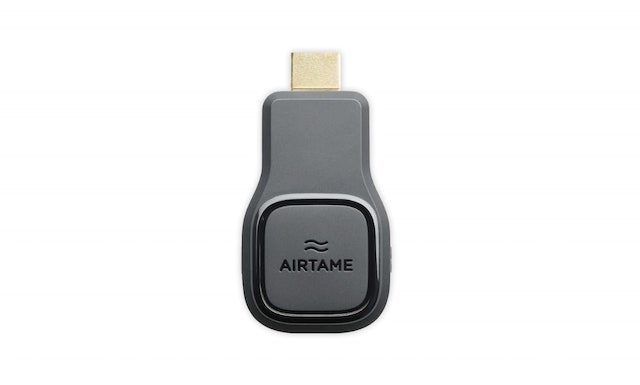 When all the alternatives were running for the entertainment purpose here is something which can be taken into consideration for educational and professional things. Yes,  Airtame is basically a great thing which was not of comparison to the chromecast but i presented it here as you can cast your media files to the TV connected to the Airtame and can be used for the educational thing when you provide it the information it will deliver in very nice way. Your android and iOS devices are both eligible to work with the Airtame, if you thinking of getting a decent one, must give Airtame a chance.
Merits :
Media casting can be done through windows, linux and both mobile OS.

Multiple screening can be done.

Lectures and presentation can be done easily.
Demerits :
Media consumption is ignored.

Works with Airtame app only.

Quite expensive and professional.
Summary
Article Name
Top 7 Best Chromecast Alternatives You Can Use
Description
List of best chromecast alternatives you can use.
Author