We surf, we buffer, we like it and then we save it. But as the content on the web is getting more open, our browsers do not let us be satisfied by simply save something for us with a tap. It becomes somewhat unacceptable when even the most popular of them – be that Chrome, Mozilla or even Opera cannot manage our downloads well for us, alas! Very rare would have not hated the 'resume download' button, because while downloading a bulky download file, if our connection becomes unstable, the 'resume download' fails to catch up from the same point. That's where is the need to bring a download manager into play. Well other than better resume capability, it offers incremented download speeds as well besides managing multiple downloads simultaneously without interfering with the browsing speed. In this post, we bring to you the 10 of the best download managers for Windows, that every regular user might find interesting to try out. After all, who won't like to taste the better of downloading.
Free Download Manager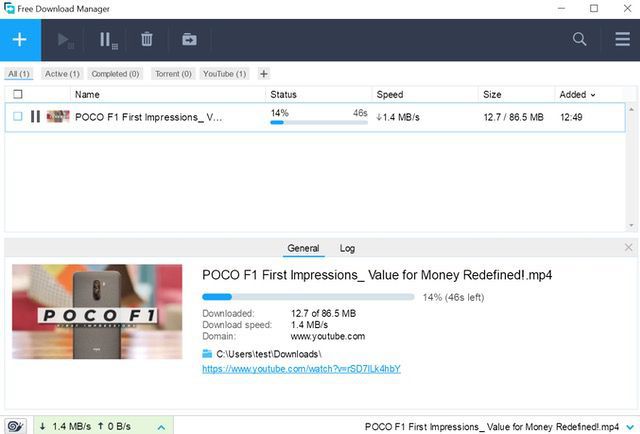 Free Download Manager, also FDM is a combo of an ergonomic interface and many attractive features. It has an upper hand over other ones like Internet Download Manager as unlike them, it is not premium. No doubt, it offers a significant increase in the download speed. And the feature to pause and play downloads is anytime better than the Chrome scenario. Apart from HTTP and FTP, FDM offers support for torrents as well which makes it stand out from other tools.
Another attractive feature of Free Download Manager is its ability to store different files in different folders, making file management much convenient like features offered by windows explorer . It also has an integrated media player that lets you access media files within the manager. A Lite version of FDM is also available that compromises some features to work upon PCs with low end configuration.
Altogether, Free internet Download Manager is quiet a suitable download manager for Windows, especially for it being an open-source one and having an 'Ad 'less UI.
Internet Download Manager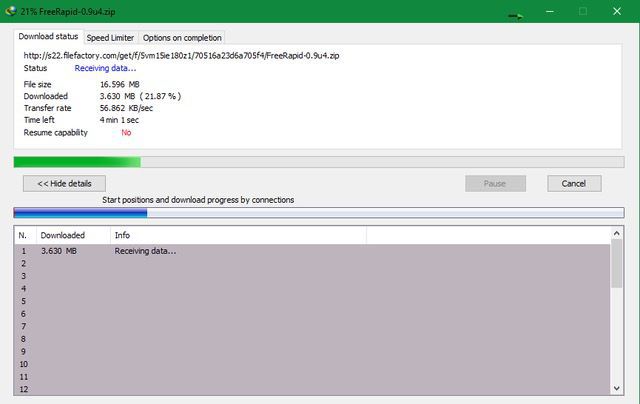 Internet Download Manager has been a much popular download manager software than any other. It claims to deploy much incremented download speeds and stability while downloading any size of file. Not only integration with the popular web browsers, IDM also offers a drag-and-drop system and command line support for downloading. Alongside having the ability to manage different files or different categories and queueing support, it gives a timer, which allows you to schedule your downloads.
Additionally, it offers high support for Windows 10 such as ability to save video from web players, MMS protocol support etc along with a wide range of performance improvements. Also, for fair usage policy-based connections, set quotas features is quite useful, while in a developer's case, Site Spider and Grabber and quite alluring.
Thus, if you are ready to spend, Internet Download Manager will surely help you out with your downloads very well for which it costs $29.55!
Download Accelerator Plus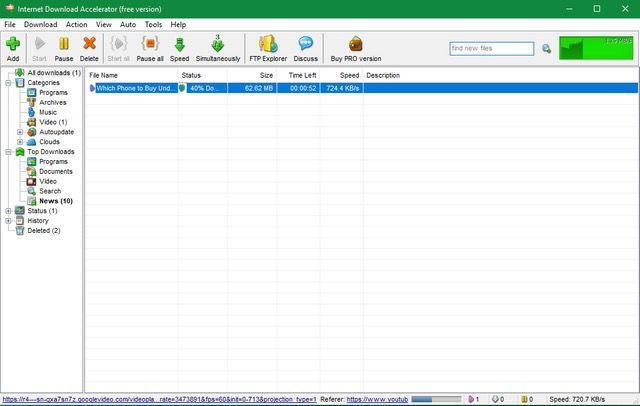 Download Accelerator Plus is a free download manager, whose primarily intents to accelerate speed of the downloads. It uses the dynamic download engine, DAP that gives the best download speed, as it finds multiple sources to download a single file. It provides a very simple User Interface that makes sense in the long run. There's also a premium version to it with advanced capabilities.
Other alluring features include added support for downloading videos from sites like YouTube, Vimeo etc; ability to convert YouTube files to MP3 and download them. Also, it allows you to play a video even before it's finished, FTP Browser, in-built video converter etc. The Premium version adds File Shredder, ZIP Preview and Trace Cleaner to it.
Download Accelerator Plus is a blend of easy-to-use User Interface & powerful download engine. Although, the free version is sufficient but the $24.95 premium proves itself.
JDownloader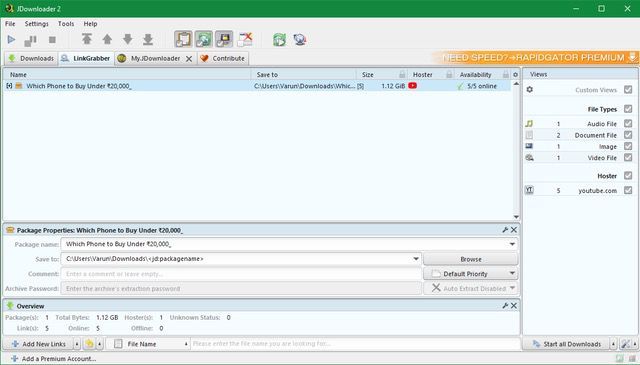 JDownloader is a yet another free download management software that brings standard features in a very convenient form. It is a software written in Java that enables you to pause and resume downloads as per preference plus some impressive features like multiple file download, support for YouTube, Vimeo etc. Apart from Windows, it is also available for Mac, Linux and another OS. Comparing to others, JDownloader suits best for those who have a busy downloading schedule.
The stand out feature it is that for an instance it gets a new IP address if a particular service blocks your IP from availing the highest speed. Also, there are 300 plugins available that help you deal with various services like UCMS & WordPress. What makes it different is the availability of 24-hour support that helps you clear doubts and queries of yours. In terms of looks and UI, it offers various themes and multiple languages.
When you prefer open-source and free to the premium ones, the J downloader Is a minimalistic solution for download management.
DownThemAll
DownThemAll is not actually a standalone download manager, but an extension for Mozilla Firefox browser that brings us advance download management features within the browser. Though DownThemAll can't be compared with the other download managers but it is surely a key solution when it comes to downloading from within the browser.
It offers customisation of the downloads as per the priority of user. It can be unleashed to its maximum result on complete integration with the Mozilla Firefox. It comes with a handful of tools such as spider pages, auto-renaming feature etc. On the whole, DownThemAll Is one of the best embedded download managers within a browser like Mozilla.
Orbit Downloader
Orbit downloader Is another download manager for windows that enables us to download everything at another level of speed and performance. It consists of integrated options for downloading from content providing websites such as YouTube, Pandora etc thus, calls itself the Download Manager Revolution. All its features are presented Under a simpler User Interface.
It extensively offers support for variety of protocols such as HTTP, FTP, MMS, RTSP etc. Also, one can set up proxy server along with general options for general management. Plus, it offers Rapid Share support which lets you download files quickly from file hosting sites.
In the nutshell, Orbit Downloader is an impressive yet powerful tool for windows and free by the way.
FlashGet
As the name suggests, FlashGet brings some fiery features to the table that could be game changing when it comes to downloading. Even by cutting down the amount of resources to minimum it still can optimize downloads very impressively. It supports various download protocols like HTTP, FTP, BT and eMule and stands the ability of managing the downloaded files such as search, rename, drag-and-drop transfer.
Despite procuring incredibly low space on the disk FlashGet has superb features to offer such as skins support that you can get an install all under one hood. One thing that makes it stand out is that it lets you get files downloaded in a remote PC through an email (given that FlashGet is installed in that PC).
Recalling all this, FlashGet is indeed a promising tool to satisfy your daily downloading routine.
Download Ninja
We already know that besides being the best, Google Chrome is insufficient at managing downloads. Download Ninja lets you add extensive abilities to Chrome where there is need of downloading. Just as DownThemAll, it is actually an extension of the browser. There's just the need to add your downloads to Download Ninja in a click – simple as that.
Apart from pausing and resuming, it has download queueing, speed limiting, file shredding, support for multiple languages, apply themes and much more to offer. Considering all this, Download Ninja is indeed a great Chrome extension to rely upon.
Internet Download Accelerator
Accompanied by a lot of useful features, Internet Download Accelerator has enough to offer in its bag. It helps you to download and manage files in an effective manner under a simple and clean interface; for instance, it has Active Visual Cart that lets you run the tool without actually opening a full-fledged window which adds a lot to the productivity.
Looking to the rudimentary design of IDA, one just can't underestimate the impressive features like ZIP Preview, play videos right during the download, FTP Explorer and much more.
Of course, taking all the features into count, IDA is a good-to-go option for download management sacrificing for the software looks.
Microsoft Download Manager
The list of the top 10 download managers for Windows ends with a tool from Microsoft itself! Microsoft Download Manager is a simple enough tool and, weighing just under 2MB to manage/deploy your downloads either broken, or stopped for convenience. This manager is available for all Windows 7,8,8.1 and 10. It comes as an integrated tool for devices running later versions of the OS. Though much features can not be expected from it, but it does manage your downloads efficiently regardless of the size of the file being downloaded.
Well, all these download managers manage well with your system and you. Download them, install them and get used to them. Its very rare that any of them has created problem and if we talk about the paid ones you can try the free demo version or the trial versions too. Hopefully this would be helpful to you, for further more updates stay tuned with our more updates for your drives and systems.