Thermal Pastes for CPU: CPU stands for Central processing unit and as we know the temperature of computers' processor should be as low as it can be. CPU should not run too hot as it will affect its longevity. The stock CPU Coolers available in nowadays market for precautions are not working up to the mark and do not provide you the best cooling performance. That's why most users prefer buying better aftermarket coolers for significant improvements in heat performance. Same as, the thermal paste is provided usually with these coolers are not close to the best ones.
To introduce about thermal paste that what it is, it is generally a thermal conductive compound that's been used to apply between the CPU and coolers heatsink to fasten up the process of heat transmission between CPU and Cooler.
So, for PC Enthusiast, here we recommend you the best high-quality thermal paste which you can buy to have the best thermal performance of your CPU.
List of Best Thermal Compounds for CPU:
Thermal Grizzly Kryonaut Thermal Grease Paste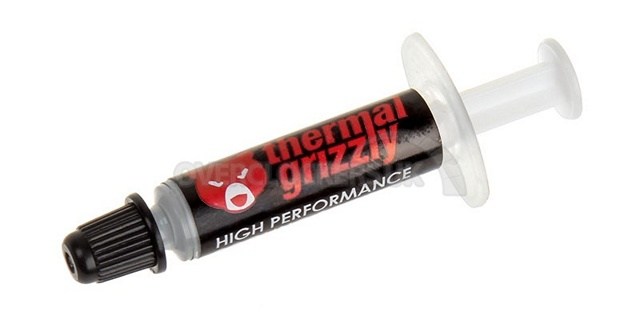 Thermal grizzly kryonaut thermal paste is at the top of list because of cooling performance efficiency. Due to its thermal conductivity of 12.5 W/mk, which is usually high for a grease based compound, prevents high temperature of CPU as it provides maximum heat transfer between your CPU and cooler.
This thermal pastes uses a special structure which halts the drying out process at temperatures of up to 80 degree Celsius.
Price – $11.99
Gelid Solutions GC-Extreme Thermal Compound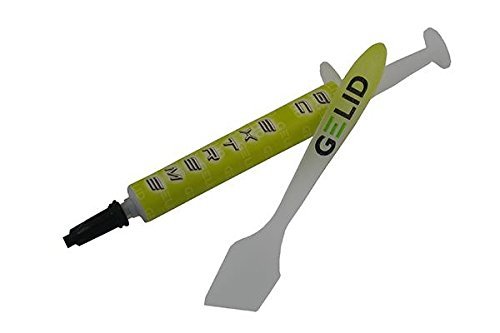 Cool down your CPU with these easy available thermal pastes which are mostly preferred by overlocking enthusiasts. Due to its activity, it doesn't disappoint us with its performance. If we compare, its not as good as thermal grizzly kryonaut thermal paste  because of its lower thermal conductivity at 8.5 W/mk. But despite of this fact, the gelid solutions GC still manipulates to come in industry by providing superior thermal performance compared to several other competitors. Importantly, its non-corrosive, non-toxic as per the manufacturers claim. Coming to its price tag, its pretty much affordable and it has all those features what one wants.
Price – $12.99
Cooler Master MasterGel Maker Nano Thermal Paste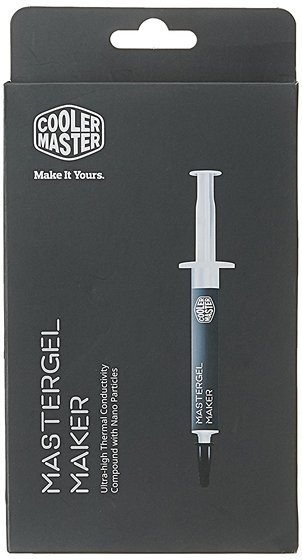 Its one of the greatly recommended paste, a very premium thermal paste manufactured by Cooler Master for maximum thermal performance. It has a thermal conductivity of about 11 W/mk, which gives more popular GC extreme a run for its money. As per the manufacturers claim, this thermal paste has nano diamond particles that is capable of managing wide range of temperatures from -50 to 150 degree Celsius. It has absolute good viscosity which makes it easy to spread and remove without cracking or drying out.
Price – $11.33
Arctic MX- 4 Thermal Compound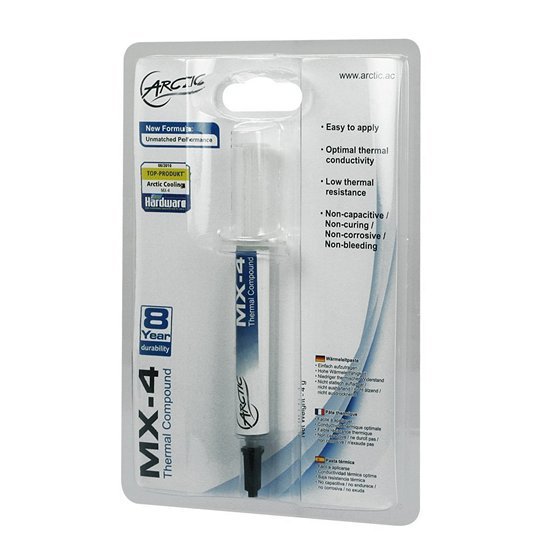 This arctic MX- 4 thermal compound is coming in contact with most of the eyes. Well, its grease based and includes carbon micro-particles which results in high thermal conductivity rated as 8.5 W/mk. The reason of becoming so much popular in a market is its great crazy efficiency for thermal performance it offers at such price.
It is consisting of any metallic particles, nothing to do with electrical conductivity. The manufacturers claim that it performance would not be compromised ever with time.
Price – $6.14
Arctic Silver 5 Thermal Paste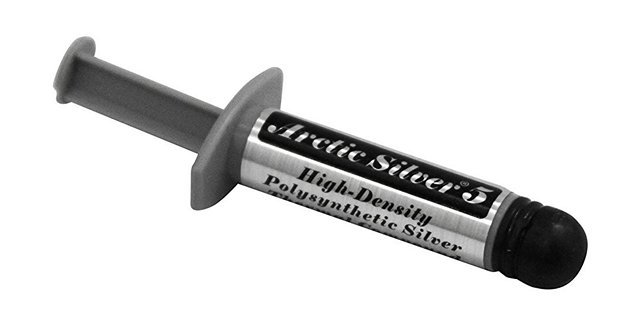 At some time, it was considered as the pinnacle of thermal pastes, but in this era, it got outperformed because of the number of pastes coming new and are now available in the market. Bt still it's the most popular thermal paste , used across the world by enthusiasts and over clockers. The arctic silver 5 is made up 99.9% pure micronized silver. Its thermal conductivity is rated at 8.7 W/mk which is little good than GC-extreme and even the arctic MX-4 and its non-electrically conductive.
Price – $5.99
Noctua NT-H1 Thermal Compound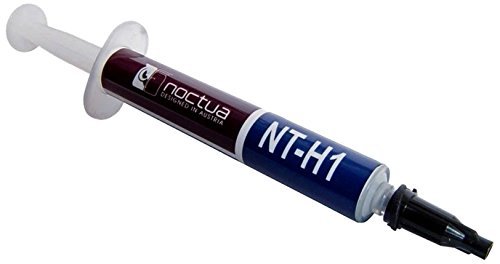 It's a high-quality thermal compound that is bundled with Noctua's premium CPU Coolers. As the manufacturer's sayings, the NT-H1 is essentially a hybrid thermal compound with different micro-particles that allows for minimum heat resistance and maximum long term stability. The thermal conductivity is nor rated but it has a peak operating temperature ranging up to -50 to 110 degree Celsius.
Talking about its price, under 6 bucks, the NT-H1 is much reasonable and professional solution in its terms for use for some exceptional thermal results.
Price – $5.90
CoolLaboratory Liquid Ultra Thermal Compound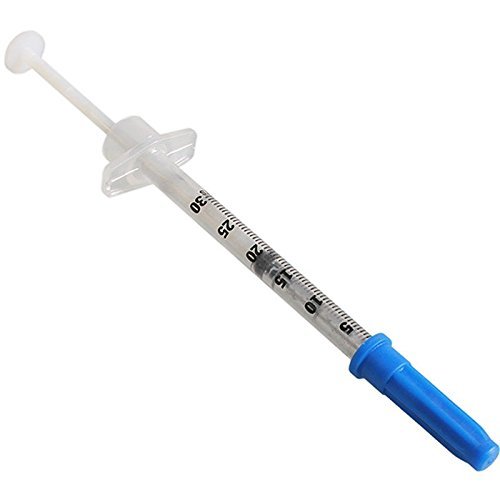 A next option for you. If you are not satisfied with the thermal performances of even the best recommended grease based thermal pastes, then this one is for you i.e. you must have to move on to these liquid metal thermal compounds. These liquid metal thermal compounds have strong game by increasing high thermal conductivity of 38.4 W/mk. After trying it, you will notice a significant temperature drop. It suits best on deluded CPU's as most of CPU's available in market does not have soldered integrated heat spreader.  A point to notice is that liquid metal based thermal compounds should strictly not been used with aluminium heatsinks, as the gallium alloy used in it will corrode the aluminium in your heatsink. The CPU manufacturer uses TIM for excluding heat between the heat spreader and the CPU.
Price – $12.84
Thermal Grizzly Conductonaut Liquid Metal Thermal Compound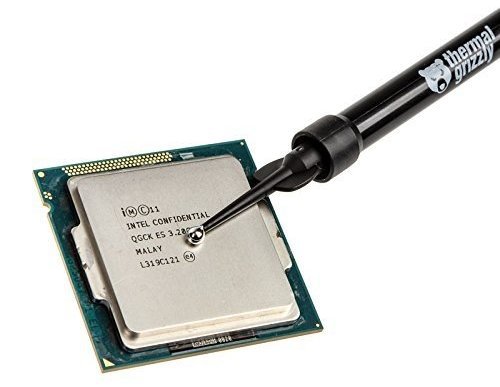 So this comes last in the list, and it is best thermal compound you can buy if you want nothing other than absolute best in terms of thermal performance. The manufacturer targets experienced enthusiasts who are planning to put their CPU's to the limits by deluding. This liquid metal based thermal compound has quite high thermal conductivity at 73 W/mm which is magnificently higher, compared to the cool laboratory liquid ultra-thermal paste. As the results, the conductonaut provides optimal heat transfer for large scale cooling systems.  It's applicable for applications where heat dissipation is of critical importance and even at 1-degree Celsius temperature difference matters a lot.
Price – $14.19
Cool down your CPU using the Best thermal pastes
The thermal pastes in stock that's often bundled along with the CPU coolers are incredibly not even close to the best ones you can get. The pastes used by the manufacturers are not as good as they are of average quality which may can affect your system sooner or later. If you feel like, your processor is running quite hot even at low ambient temperature then you must get your hands on best thermal paste with a good budget. Even if you have a laptop, you can consider your thermal paste , getting replaced by an expert technician. But if you feel like your CPU is literally turning very hot even at slightest of temperature difference then we suggest you to buy liquid thermal compounds. Otherwise, no need to take such a risk. And at last, everything depends upon your budget and what performance needed, there are number of options you can get.