Blocking a website in Chrome: Google Chrome is a very popular browser. It was launched in 2008 and after that I have never used any other browser. It is fast and secure browser. After its launch, I have never used any other browser instead of it. The only reason to stick to this browser is its fast speed and smooth performance.
Recently, One of my friends asked me How to block a website in chrome? then I decided to write a post on it because there are so many other people who want to know about it. Well, there are so many reasons to block a website. Every individual has its own personal reason. So, instead if getting into it let's directly come to the point. In this post, I will share the step by step guide to block a website in chrome.

Block a website in Chrome
There are so many different ways to block a website in chrome. You can block a website in chrome using the extension or if you don't want to use any extension then you can do it manually too. I always prefer blocking a site manually because extensions can be removed or turned off anytime and you know that more extensions slower the browsing experience. So, just forget about it and let's see the manual method of blocking a website in chrome.
First, Launch the Chrome browser
Tap on the three dots on top right corner of the chrome browser
Then Select Setting and after that tap on Advance settings
Now Click on Proxy settings under network
Windows Internet Property window will appear on your screen
Now, Select Restricted sites in the top pane
Then, click the Sites button
Now add the url of the site which you want to block
Tap on Add button
After finalizing the list click on close button and Ok
Now You have to restart the chrome browser and After that, your site will be blocked on the Chrome Browser.
You can add URL of any site here and that site can't be accessed from your chrome browser.
Also Check: How to use and install KissCartoon Kodi Addon
So many ways are there to do secure browsing on chrome. Let's discuss some of them below:
Use HTTPS everywhere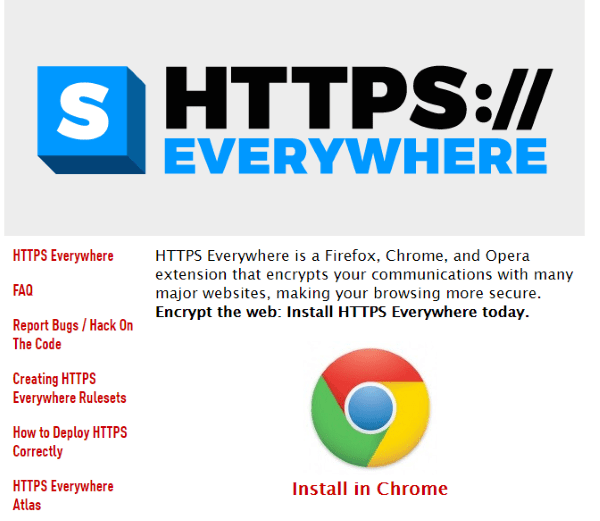 I always use extensions very carefully because one extension can ruin all your browsing experience in chrome and one can make. So, I prefer Https everywhere extension which serves me best without disturbing my chrome browsing experience. It is improving with the new updates. You must use this extension in your chrome browser for secure browsing.
Use A VPN
Surfing on the internet is not safe nowadays. So, we should use VPN (Virtual Private Network) which do not allow anyone to trace our working and IP address. There are so many VPN service providers who don't maintain any record. They just take their payments and don't save our details that what we have surfed and all.
Control javascript
So many hackers and ad servers are using javascript. So, there is option of disabling Java script in Google Chrome using which we can block the Java script on all sites and whitelist those sites which are secure. We can block the JavaSript using the following steps:
Click on the three line on the top right corner of the chrome browser.
First, click on settings and then advance settings.
Now, Choose Content settings under privacy
Change JavaScript to 'Do not allow any site to run JavaScript.
Now, click on Manage exceptions and Add the list of URLs of sites that use JavaScript which you trust.
The best way to secure chrome is Blocking the Javascript.
Chrome settings for Improved Security
There are some more steps which can make you chrome browser more secure:
Click on the three lines Menu in the top right of Chrome browser.
Tap on Settings > Advanced settings.
Click on Advanced sync settings and change Encryption options to 'Encrypt al synced data with your own sync passphrase'.
Add a phrase and click on OK.
Check the box next to 'Send a Do Not Track request with your browsing traffic'.
Uncheck the box next to 'Enable Autofill to fill out web forms…' and 'Offer to save your web passwords'. Use a password manager instead.
Tap on Content settings under Privacy and work your way through the list.
This is all for how to block a website on chrome. We have also mentioned some steps to make your chrome browser more secure. For more helpful articles like this visit our website daily and don't forget to subscribe to our newsletter to get regular updates on your email from World Top Updates.
Summary
Article Name
How To Block a Website in Google Chrome browser?
Description
Complete step by step guide to block a website in chrome browser.
Author