Cucumber is close to 90% water and is one of the most hydrating vegetables on this planet. People all over have vouched for the skin benefits of cucumber. It's cooling and hydrating properties helps in rejuvenating dull and dry skin and also adds a fresh sheen to your skin. With 95% water, they hydrate and cleanse your body. The Vitamin content in cucumber actually helps in fat oxidation. Cucumber is very satiating as it is filled with fiber. You can have it in the form of salads, include it in continental dishes.
Cucumber is rich in fibers and fluids which keeps your stomach full for longer. Cucumber comes packed with flavonoids, antioxidants and anti-inflammatory properties. In addition to these, cucumber is also rich in essential nutrients like manganese, Vitamin A and K, beta-carotene, magnesium, and phyto-nutrients. No doubt, adding cucumbers to your daily diet is only going to benefit your health in the long run.
Strawberry-Cucumber Ice Pops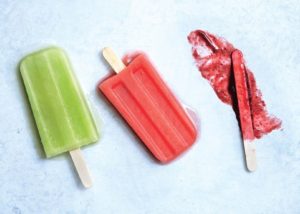 Purée 1 cucumber and 5 number strawberries, ½ tsp lime zest, lime juice, and ½ cup sugar in a blender until very smooth; transfer to a large pitcher or measuring cup. Season with salt and stir to combine.
Pour strawberry-cucumber mixture into ice-pop molds. Cover and insert sticks. Freeze until solid. Dip molds briefly in hot water to release pops.
 Strawberry-Cucumber Salad with Lemon Cream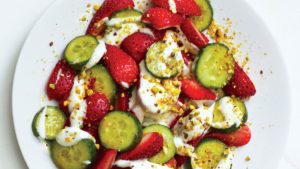 Toss 500 gms strawberries, 3 cucumbers, ½ tsp cardamom powder, a pinch of salt, and 1 tsp. sugar in a medium bowl and let sit 10 minutes to allow sugar to dissolve and flavors to meld.
Meanwhile, mix ½ cup fresh cream, 1 tsp lemon juice, 2 tsp. sugar, and a pinch of salt in a small bowl; set lemon cream aside.
Pulse 50 gms pistachios, a pinch of red chilli powder, and a pinch of salt in a food processor until nuts are just finely ground making sure not to overdo them as they can turn into a paste. Divide fruit salad among plates and spoon reserved lemon cream over; sprinkle with ground seasoned pistachios.
 Bread-and-Butter Pickles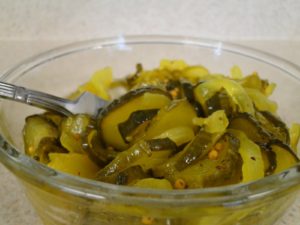 Pack 2 thinly sliced cucumber, 1 thinly sliced onion, 2 jalapeños, 4 dill sprigs, 2 tablespoon coriander seeds, 2 tablespoon mustard seeds, and salt into jar.
Bring 2 cup vinegar, 1 cup sugar, and salt to a boil in a medium saucepan, stirring to dissolve sugar and salt. Carefully pour into jar, filling all the way to the top. Seal jar and chill at least 12 hours.
 Chilled Cucumber Soup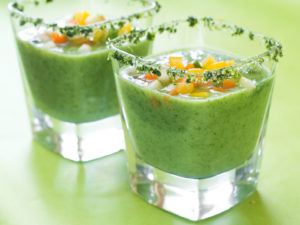 Blend two peeled and chopped cucumbers in a blender. Add 2 cups of chicken stock, 1 tablespoon of yogurt, 9 mint leaves, 1 clove of garlic, salt, pepper and 2 tablespoon lemon juice. Blend it all together. Keep it in the fridge to cool. Cut 1 slice of bread into cubes and shallow fry them. Drain them out on a plate. You can sprinkle some grated parmesan over them for that extra flavor.
Add the chilled cucumber soup in individual bowls. Serve chilled with hot croutons.
Enjoy these simple to make recipes and give a comment below. If you liked this article then, do share it with your friends.