Get Help With File Explorer in Windows 10
Windows explorer was one of the most used features of the earlier versions of Microsoft Windows since Windows 95. But in the latest release of Windows, the Windows 10, Windows Explorer has been dropped.
Yes, the Windows 10 removed the Windows Explorer but it came with the more elegant and effective concept of Windows Explorer namely File Explorer. Windows 10 came with a redefined and redesigned Windows Explorer and that too with a new name, the File Explorer.
The file explorer is one the most important feature of the Windows 8, 8.1, and 10 OS and if you are a Windows 10 user then you might be having some trouble using it or you're looking any assistance then you've reached the right place. So in this article, you're gonna get a brief insight into the File Explorer and its features and a complete assistance for configuring file explorer in Windows 10 step by step. Also, you will be getting a complete help on file explorer in windows 10.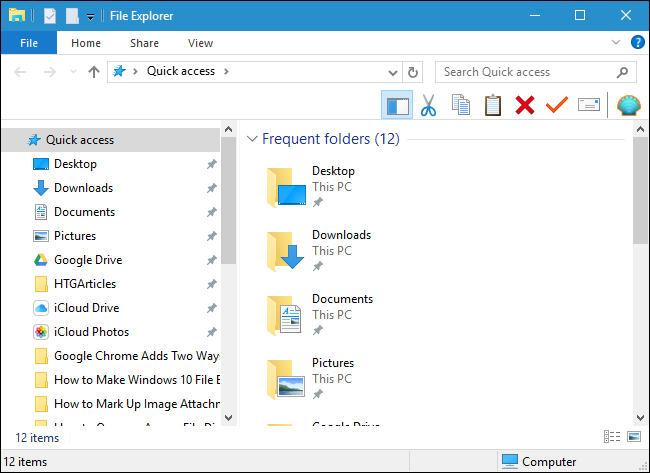 File Explorer 10-New Features
The new File Explorer brings some really cool and exciting new features and we strongly think that you should know a word or two about that. So presented below are some of the features:

Share Tab: Present at the top left corner of the file explorer, it lets you share various files and folders at an instant of a click. All you need to do is to select the file and click on the share tab. You can also convert the files into zip files and burn them on a disc.
One Drive: Unlike Windows 8, now you can save your files directly on the drive and at the same time you can sync them with the system.
Home Tab: Press Win+E and you, my friend will reach the home tab where you will find all the essential operations like copy, delete, etc.
Quick Access: It lets you access frequent folders and recent files that you've frequently visited.
Getting help with file explorer in Windows 10 
Configuring Windows 10 File Explorer to Open with This PC View
Step 1: First, open a new File Explorer window and click the View tab from the ribbon toolbar.
Step 2: Now, click on Options, listed by default on the far right side.
Step 3: In the Folder Options window, reach to the General tab and then find the drop-down box labeled Open File Explorer too. Click the drop-down menu and select This PC. Hit OK to save changes and close the Window.
Below image shows the steps very clearly to understand better.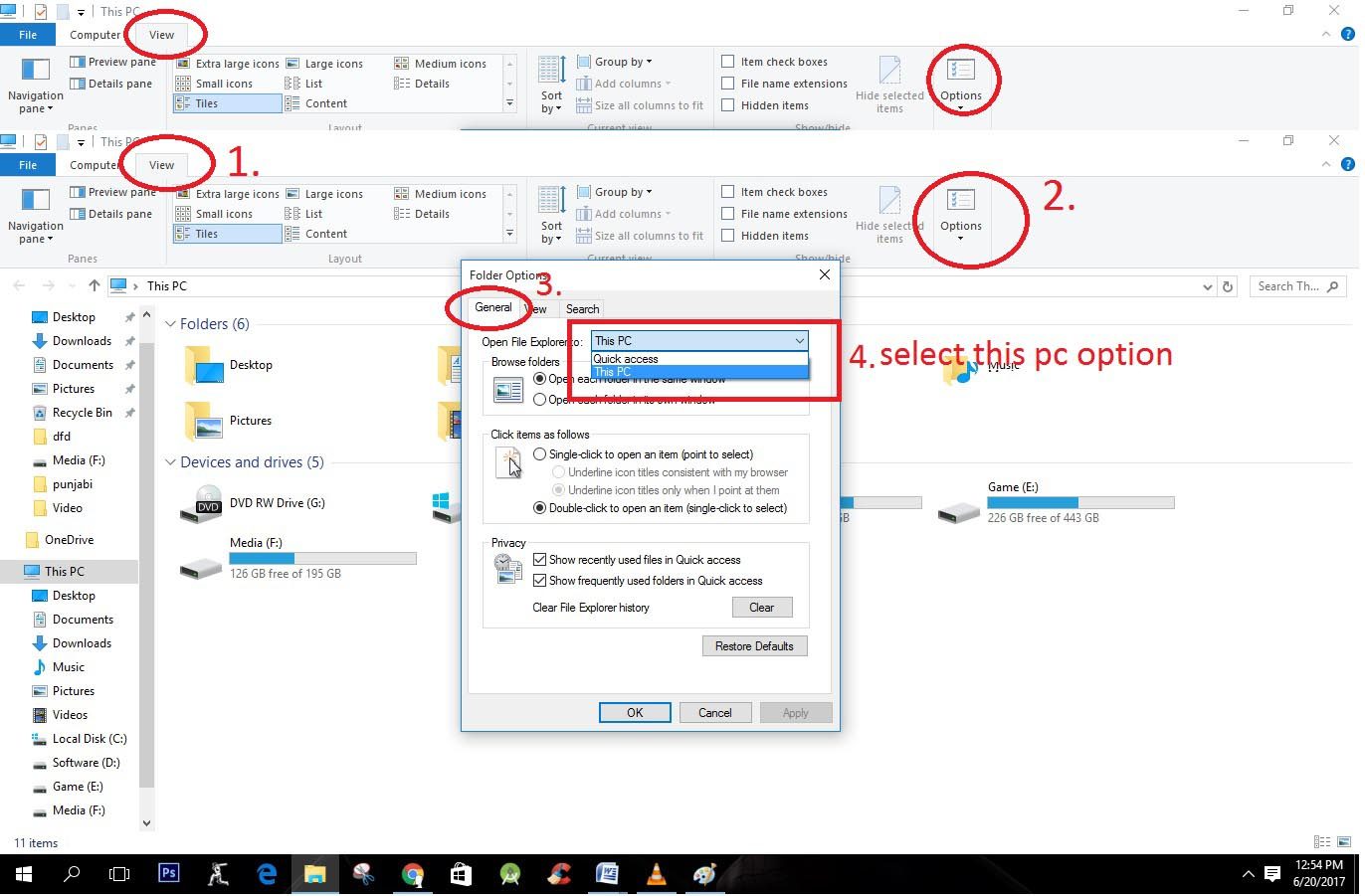 So this was how you can configure file explorer in Windows 10. No reboot or shutdown is required to make changes to effect. Open a new File Explorer window and you will see the change as it displays This PC view by default. You can switch back to Quick Access view anytime you feel the need to.
File Explorer still got many cool new features and upgrades you don't have a clue about. In the next section, we're going to enlist some Keyboard Shortcuts and Windows 10 issues and how to fix Windows 10 issues by simple and easy to go methods.
Customizing Quick Access to Windows 10
Quick Access lets you access the recent folders or files you frequently visited on a single screen. Frequently visited folders show up on the main screen of File Explorer which gives you an easy access folder that are too deep and requires numerous steps to find that particular folder. So, if you wish any particular folder to show up on Quick Access you can follow these steps:
Step 1: Right Click and select the folder you wish to put on Quick Access.
Step 2: Select Pin to Quick Access option appearing in the drop down menu.
You're done now and you will see the selected folder appears on the Quick Access.

Removing the selected folder from Quick Access
If you've put any folder to Quick Access by mistake or the selected folder is of no use any more then you can remove it from Quick Access by following these simple steps: –
Step 1: Select the folder you want to remove from Quick Access.
Step 2: Choose "Unpin from Quick Access" from the drop down menu.
Now you will see the selected folder is gone now and it no longer appears on the Quick Access bar.
One Drive on File Explorer
As we all know, One Drive is one of the supreme quality online file hosting service or a cloud server where you can store operated by Microsoft and all you need is a Microsoft Account to use this service. It also provides privacy control options which means you got the freedom to restrict the audience. 5GB storage is provided to all the users and additional storage can be added by purchasing the subscriptions. The new File Explorer provides an easy access to your One Drive account. All you need to do is to click on the One Drive option on the left side of the File Explorer. Moreover, you can easily add files to your One Drive account by dragging the files to folder under One Drive on the left panel.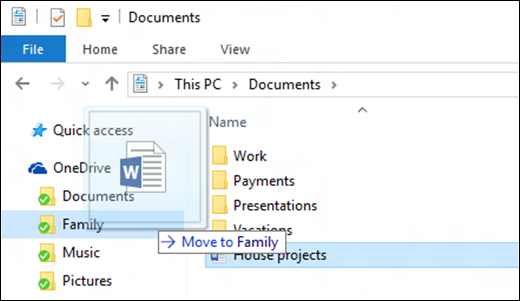 File Explorer keyboard shortcuts in Windows 10
We always seek for the easy and convenient way to do things. Having easy methods increases the work efficiency and reduces the efforts. So to make your File Explorer work experience easy and convenient Microsoft provides you with some keyboard shortcuts that are enlisted below:

Windows Logo key + E: launch File Explorer.
Alt + D – go to the address bar
Ctrl + E – go to the search box
Ctrl + F – go to the search box
Ctrl + N – Open a new File Explorer window
Ctrl + W – Close the current File Explorer window
Shift + Delete – permanently delete file or folder
Ctrl + D – move file or folder to recycle bin
Alt + P – Show/Hide the preview pane
Alt + Enter – Display the Properties dialog box for the selected file or folder
Alt + Right arrow – View the next folder
Alt + Up arrow – View the folder that the folder was in
Alt + Left arrow – View the previous folder
Ctrl + mouse scroll wheel – zoom in or zoom out on File Explorer interface. It will change size and appearance on File Explorer views.
Ctrl + Shift + E – Display all folders above the selected folder
Ctrl + Shift + N – Create a new folder
Backspace – View the previous folder
End – Display the last item in the active window
Home – Display the top item in the active window
F11 – Maximize or minimize the active window
Num Lock + Asterisk (*) – Display all subfolders under the selected folder
Num Lock + plus (+) – Display the contents of the selected folder
Num Lock + Minus (-) – Collapse the selected folder
These shortcuts will definitely ease your work and will be very helpful to customize your Windows OS.
Do Right Clicking Hangs Windows 10 File Explorer?
After updating Windows 10, there have been many complaints of file explorer hanging when right clicked. Users from all around the world are facing this problem and if you are one of them, then follow these simple steps:
Method 1:  Using command prompt to fix file explorer crashing problem 
Press WIN key + X altogether. You will see command prompt opens up on your computer screen with administrator access.
Type "netsh" in command prompt and press the enter button.
Now, type "Winsock reset" and press Enter.
Now command prompt initiates the process and you will see the notification in the command prompt. After you see the notification, you will have to restart your PC to apply the effects.
Method 2 :
Although the first method works in most of the cases and is sufficient to resolve the problem. But it fails in your case, don't worry we have an alternative method for you. You can try this one out:
To begin with, go to settings option and find/open the Windows Updates.
Then click on Advanced options.
There you need to go to the "view your update history" option.
Then click on "Uninstall Updates".
Now find the update "KB3081449" from the list of the updates installed on your system.
After you find the "KB3081449" update, right click on it and click on uninstall.
Now, restart your PC to apply the changes. After restarting the PC, you will not see your File Explorer hanging on right clicks anymore.
So this was it, we hope this helps you out with all the new features and the troubles for Windows 10 File Explorer. If you are still facing any other problem or you have anything that we forget to mention, please drop it in the comments section. Or you can contact us through direct mails. You can share this post with your friends on social media. Your feedback and suggestions are always valuable and we will be looking forward to them from you.