Gorgeous Rainmeter Skins: The Windows' OS's are, and have always been the most customizable lineup of operating systems. We could do theming – be them official or third party, wallpapers, lock screen and what not. With advancement in time, windows has also been able to host plenty of new programs that let us tweak our desktop in our own ways. Be them be docks, skins or some cool widgets with Rainmeter convincingly being the most popular of them.
Quite powerful and accessible, Rainmeter is a free desktop customization that revamps the way our desktop looks. It brings to you all the vital information that you need to look up to at almost every time of the day such as clock, email, network statistics, RSS feeds etc, all at your dashboard though itself standing the ability to get tweaked in numerous ways. Well we could say that it supports actually infinite number of skins, because it does. So, you can never get bored getting over the same few skins again and again.
But where's the need to worry for that, as we bring to you 20 of the most gorgeous Rainmeter Skins that can amuse you throughout your day and surely you can rely on them.
Note: In order to use these skins, the Rainmeter must be installed on your Windows PC. It is compatible with all Windows versions, from XP to Windows 10.
TECH-A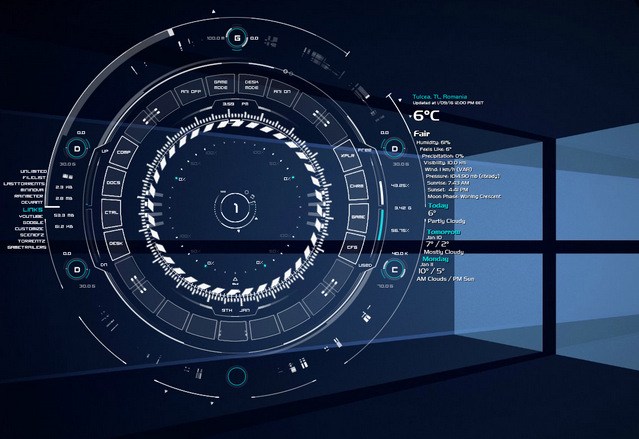 If you're fond of the tech featured in those sci-fi movies, then this is surely gonna be your choice. It can display a truckload of information like weather, date & time, RAM usage apart from which you can also set shortcuts to your folders like Music, Disk drives all flaunted by a revolving core.
IronMan – Jarvis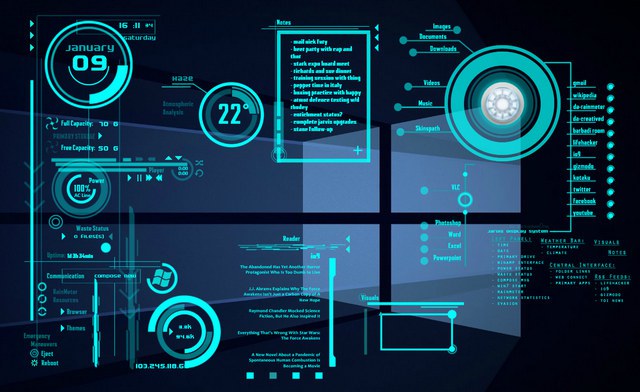 Who's not a fan of the Iron Man and all his tech! Well you can start to feel in your own as Tony Stark if you have this cool J.A.R.V.I.S on your system. It has plenty of customizations, multiple repositionable modules and all your information displayed like temperature, CPU usage, clock and of course the easy-to-go shortcuts to your desirable folders all labelled to the arc reactor core.
Avengers SHEILD OS
Although, there might be no Avengers in the real world but you be the Nick Fury at your desktop all because of the Avengers SHEILD OS skin. It is available in multiple resolutions and offers all the shortcuts to your regularly accessed apps like Music, Skype, Chrome which be handy throughout your day. Branded be the S.H.I.E.L.D Eagle tag, it offers media playback control, RAM/CPU usage and volume control on your desktop.
Mass Effect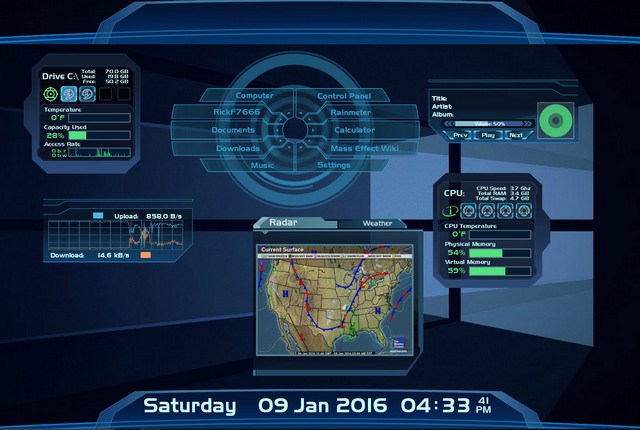 Well if you want to feel like Commander Shepard of the BioWare's game Mass Effect, then this skin would be you favorite. It has a lot to offer such as the Control panel, Maps Date & Time bar, Hard Disk info pane and of course media playback. Its network statistics graph too is quite impressive and last but not the least, all items can be rearranged as convenient.
Senja Suite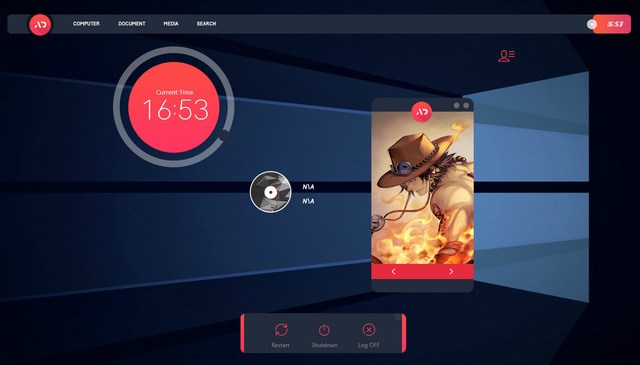 If you prefer a simple and clean UI without any complications then Senja Suite would be your first choice. It shows just the basic information like user profile with expandable bar of shortcuts, media info, power options, date & time and a slideshow of desirable pictures.
ALIENS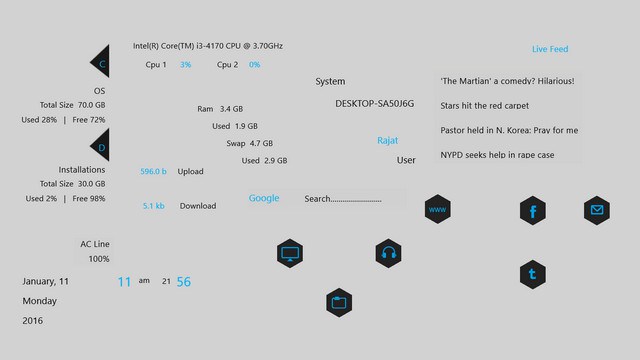 It is a brilliantly created skin that shows the dominance of just text and solid coloured wallpapers over graphics and objects when it comes to customization. The modules are quite configurable and flaunt the shortcuts, network speeds, clock and power status very well.
Eker Lina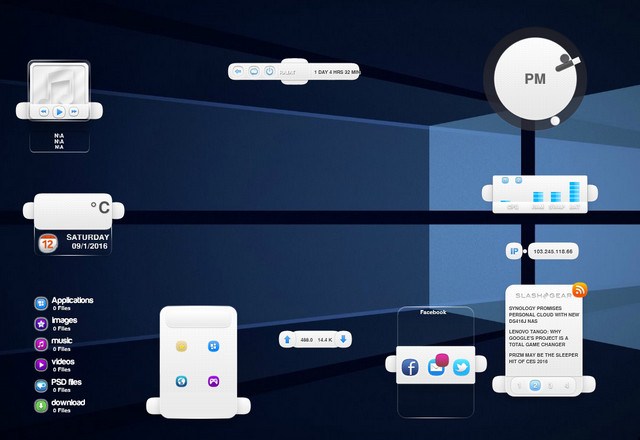 It is a beautiful Rainmeter skin consisting of modules being blazed as individual widgets each consistently designed to complement each other. Thus, we can customize all the sub-modules individually to create our own unique look. Eker Lina flourishes all the shortcuts, weather, feeds, clock and medial controls in a very elementary form.
Before Dawn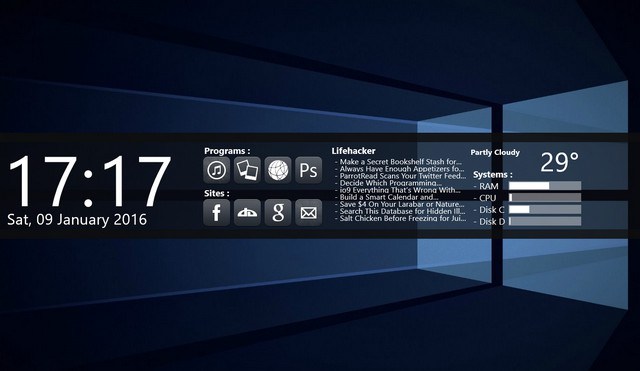 This is the easiest-to-setup and zero tweakable skin out there. It is quite a Windows kind of skin that resembles Windows Lock Screen. It spans through the entire width of desktop and assists you with the details about date & time, shortcuts, most used apps, news and temperature.
PILEUS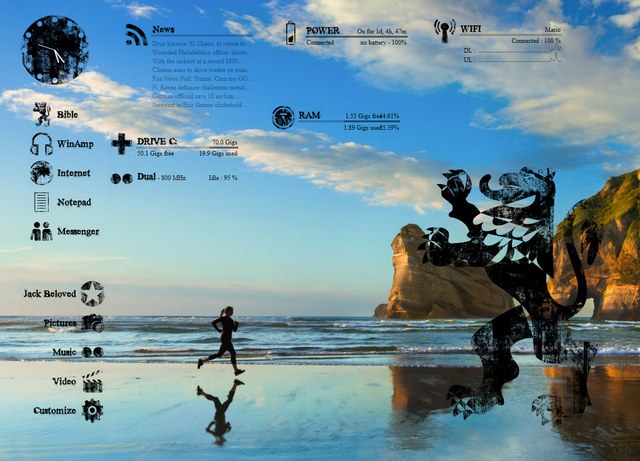 It might not be a common favorite but it does have that scrubbed effect that would definitely bring on your cards. It is quite a bit on the heavier side as it has insane number of things for you to spectate be it the wifi status, RAM usage, media apps or the faded clock. The most interesting thing is that it comes in both dark and light tint choices.
Razor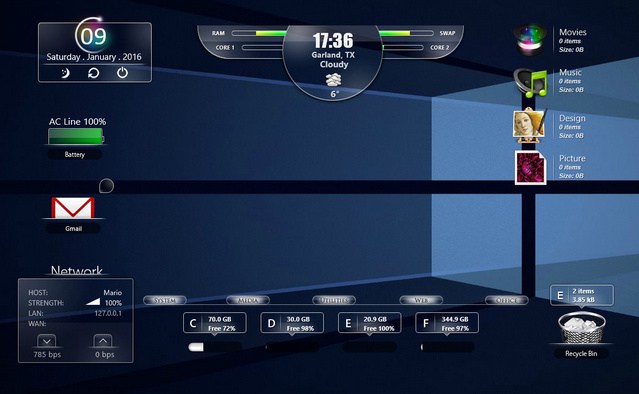 It is a translucent skin with the glassy effect on all the elements. It is such a skin that the choice of wallpaper would determine that how good or bad the skin would appear. It showcases a combo of weather and date & time on a single module followed by shortcuts, network status, an impressive dock and your mails.
ABP

Don't confuse it for the windows widgets placed separately on your screen. ABP is such an elegant looking sub-modular skin that it doesn't seem like some customization to your desktop. All its components follow a rectangular shape design. Your clock, weather element, mails or anything, ABP showcases everything on the desktop very nicely.
Enigma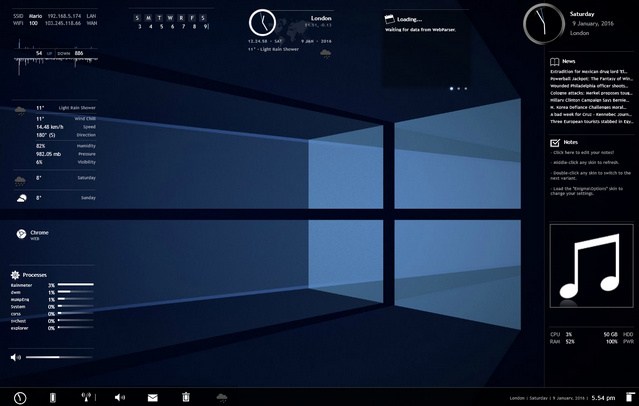 Probably one of the most preferred and also the most customizable skin is Enigma. It flaunts a very minimalistic design and was also chosen as Rainmeter's default skin in 2009. It brings each and every detail from your system to your dashboard as per your wish. It stands highly customizable sub-modules including World time and weather, multiple feeds, slideshow, RAM & CPU usage, sticky notes, real-time active processes and much more.
Speed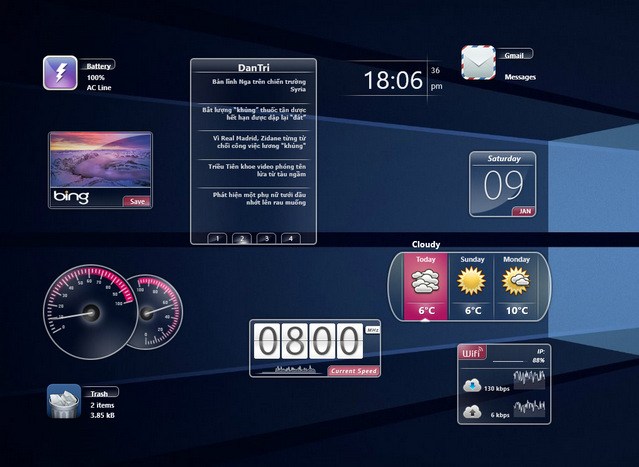 Speed thrills but also eases your day. It is best paired with some muted wallpapers referring to its frosted glass effect. All elements follow a consistent transparent look that is reorganizable anytime. It splashes very neat looking gauges for all modules i.e. Date/Time, weather with 3 day forecast, unread email count and CPU or RAM details.
Wisp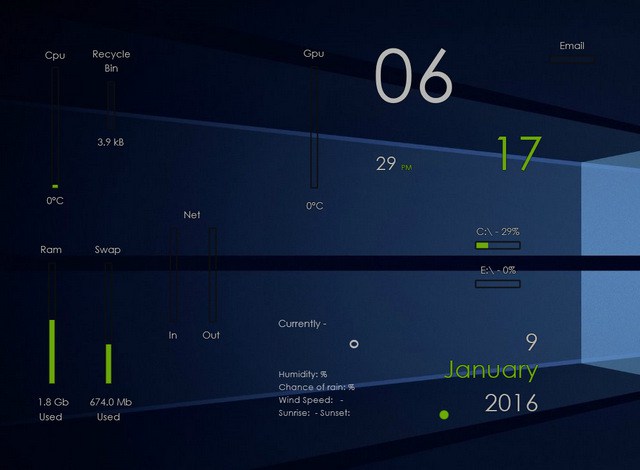 Wisp is uniquely identified by its elements' uncontained boundaries as the text appears directly written on the desktop instead of displaying through the boxes. Its look purely depends upon the combination of the wallpaper with the text written. It displays disk usage, RAM usage, time & date, network status and temperature quietly dramatically.
Simple Media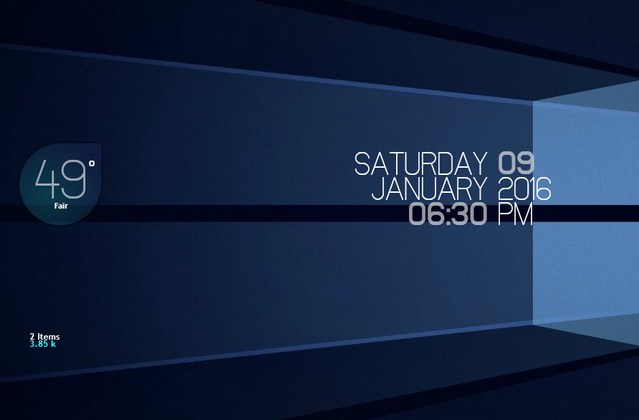 As the name suggests, it is as simple as your phone's lock screen. It is one of the most basic looking theme for the Rainmeter. Regardless of the desktop resolution and despite of showing only basic information, this skin's font can outshine any other skin by suiting on any kind of wallpaper. It has just three modules showing the date & time, temperature and the Recycle Bin status with more alternatives available for all three.
LIM!T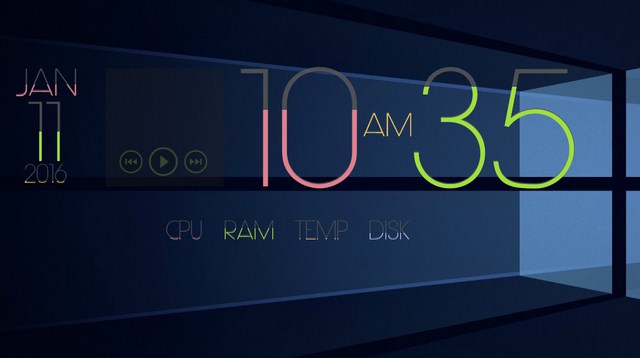 If you are tired of those over showy skins and want to settle for text only then LIM!T is the right one for you. Composed of big, clean and material fonts, it throws a lot of important data to you by filling up the inside of the textual content depending upon the information being displayed (e.g. minute numbers fill up steadily and restart filling after getting to it full mark i.e. 60 seconds). It presents the Time & Date, RAM & CPU usage, weather stats and media controls in a very elegantly oriented manner.
Neon Space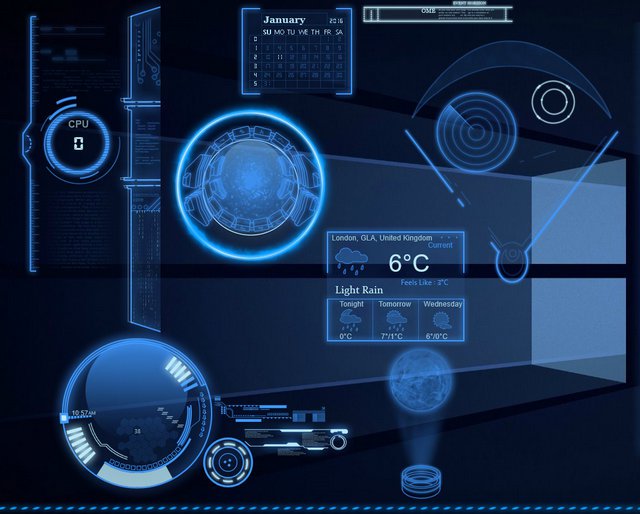 It won't be wrong to state it as one of the most addictive skins as it has some extraordinary HUD animations glowing in neon blue color. It totally revamps your desktop to resemble some alien spacecraft. It splashes your screen with a 3-day weather forecast, a calendar, CPU and RAM status, date & time followed some holographic animations.
Unity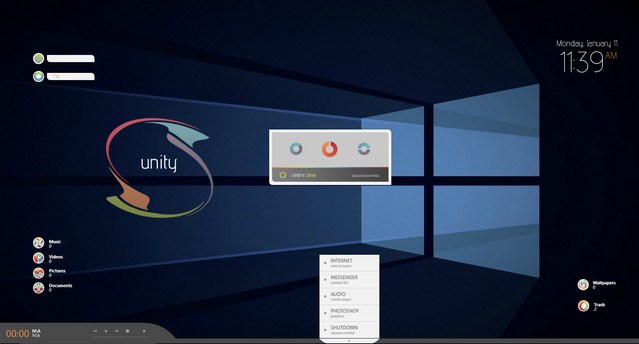 Elegance to the next level is what all about Unity. It is an outstanding material looking skin with some absorbing color combinations and includes very functional tools to frame-up your essentials in one place. It manifests all the sub-modules like shortcuts, weather stats, date & time along with a wider media control center.
Elegance 2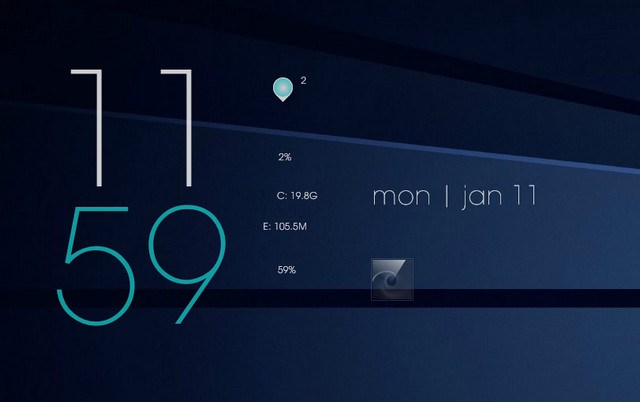 Bringing justice to its name, there is Elegance 2 for you. It is pretty much lightweight, well organized and complements well with a matte background finish. The data is layed out with a very clean font. Its modules include date & time, media playback control, Recycle Bin status along with CPU & RAM stats.
Newspaper Desktop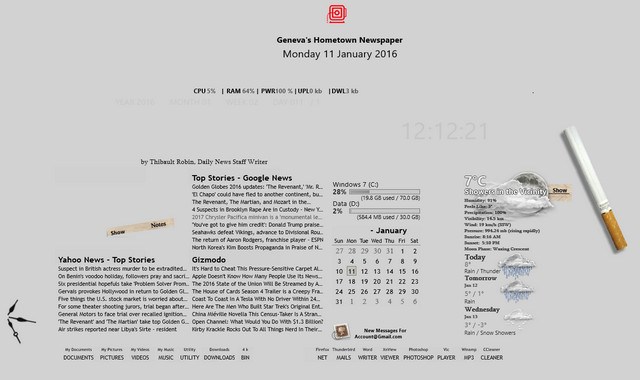 What about having a newspaper every morning when you grab your coffee and kick off with your work in the morning! That's what Newspaper Desktop is all about. It just looks like a newspaper laid on your desktop with all the important things placed like pocket clock, CPU/RAM status, weather forecast, disk space status etc. All the elements are setup just to mimic a real newspaper with its components like news columns, Name/Date header etc.
Rainmeter Hub
Rainmeter hub is definitely an attractive target if your hunt for a good skin is still on. It is a great source of vital information delivered to you where some optimum skins and individual modules can be found with sample screenshots, install instructions and download links too.
Rainmeter Thread on Reddit
No doubt the right source of right information and resources, Reddit now supports desktop customization too. The Rainmeter thread on Reddit is the right place to check out the latest updates on newly introduced skins, themes and other cosmetic resources and the tutorials to create your own Rainmeter skins also.
Make that Desktop Personal!
Our gadgets are termed to be the digital reflection of our personality; thus, it is must that one must add that extensive look to it. This can be done with something like Rainmeter perfectly as it offers the best touch-up for the regular desktop. So that desktop deserves to get personal!