Cordless Phones: Ever since the advent of mobile phones, they have been quite a rage and continue to be so. Cell phones have become an imperative part of our daily lives. We really can't imagine going about our lives without a cell phone. And why not? With myriad features and a whole lot of convenience, it has to be an optimum communication choice, isn't it? With this sudden boom in cell phones, landlines saw a steady decline in the market. But, the fact is, landlines are probably way more reliable and dependable when it comes to the choice of communication. Think about it. No dropped calls, no network error or connection problems, and given that landlines, particularly cordless phones are not behind in terms of features and functions from modern-day cell phones – they are a necessary addition to any office setup.
Best Cordless Phones for Your Office
Research shows that landlines are way better in terms of voice clarity, connection stability, and convenience. Landlines, particularly cordless phones come paired with a horde of features these days like Bluetooth pairing, multiple line call support, inbuilt speakers, and can even be synced with outlook! But with so many features to choose from, it often gets difficult to make a right, well-informed choice. This article aims to give you a heads up about five of the top cordless phones available in the current market which are worth a try!
Panasonic KX-TG7875S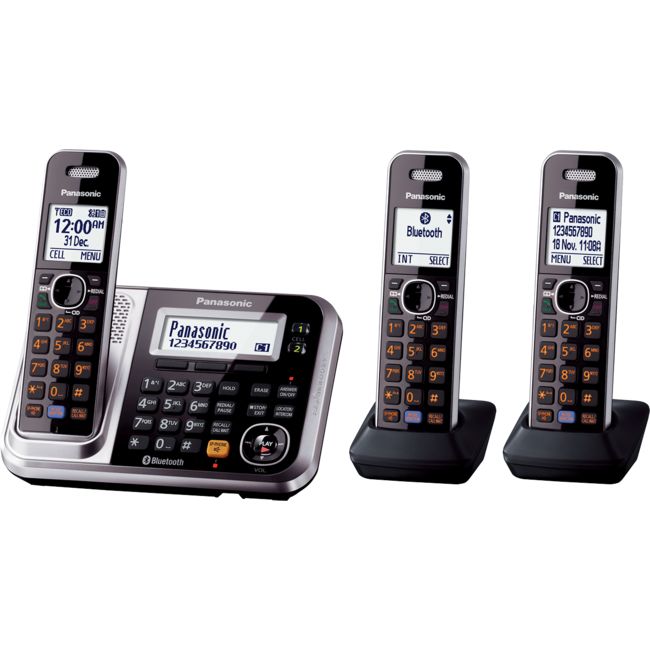 This is a 5-handset setup with myriad features like seamless integration with cell phones, extensive contact list, Bluetooth class 1 support, and much more. The cell phone integration is an interesting function, where you can use Link2Cell to sync your smartphone to the landline. This lets you make and take calls on your cell phone via the landline handset, thus, in turn helping you save your cell phone battery. This feature also informs users about new text messages via the landline handset. DECT 6.0 technology aids a great call quality and the 1.8 GHz frequency prevents any kind of interference from wireless devices around. Overall this is a great option and has fantastic range coverage.
Gigaset S820A-Duo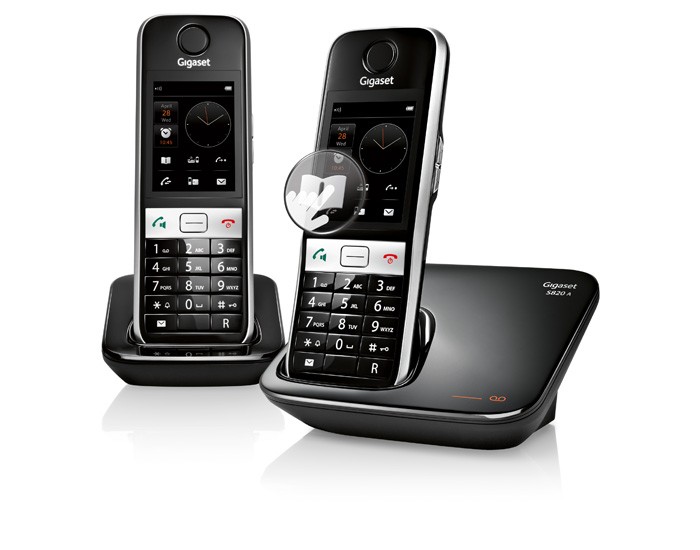 Hands down one of the best cordless phones for an office environment is the Gigaset S820A. It comes bundled with numerous interesting features which are unique and heavily customizable. This handset has a 250 hour standby battery time and over 20 hours of talk time. Call silencing, messaging and blocking, up to 500 entries in contact book, a 2.4" of touchscreen display and call recording etc. are a few amongst many such features that come bundled with this handset. This cordless phone can be easily synced to your desktop or MS Outlook and hence another great choice for offices. You can also assign images to your contacts and much more.
VTech DS6671-3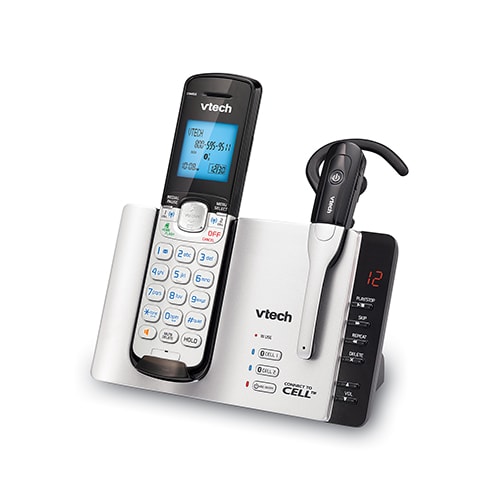 This is a bundled set of 2 handsets and a headset. DECT 6.0 technology is incorporated into best in-call services. There is no in-call interference, great connection stability, and enhanced call quality and range. It has up to 2000 programmable contact storage and can be easily synced with your office computer, MS Outlook, or even your iPhone! You can set individual caller tunes, remotely access messaging and voicemail, and also save up to 50 calls on caller ID. Along with the bunch of other fascinating functions, the prime USP of this cordless is the wireless headset integration. This allows you to talk hands-free and even increase or decrease the volume without having to even pick the handset up!
VTech CS6719-2
One of Amazon's bestsellers, the VTech CS6719-2 is everything one can imagine packed in a budget cordless phone. Given its low price range, this handset does a commendable job when it comes to packing in features. Incorporated with DECT 6.0 technology, this handset offers premium call quality. It also blocks out any interference from wireless devices around you. It has an option of expanding up to 5 handsets and syncing them together. Other features such as caller ID, call switching, mute button, and even intercom connection between the two devices are also added in. If you do not want to shell out a lot and yet have a reliable, dependable cordless phone, this is a great choice!
AT&T CLP99483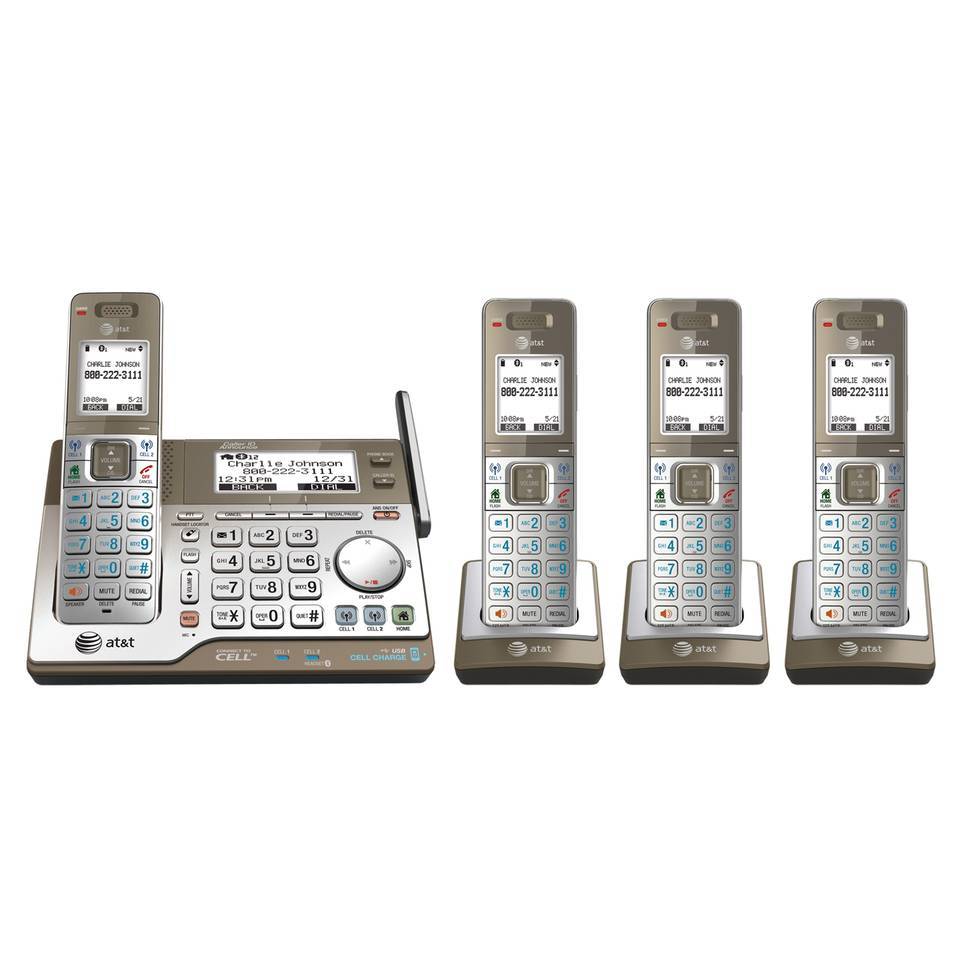 The most predominant feature of this handset is its advanced connectivity using Bluetooth to pair up your home system and cell phones. You can seamlessly connect your android to this handset and get the notification, messages, and call updates for your cell phone on the handset itself. A USB port is also provided, and other than the multi-line facility. This handset also gives you contact storage of up to 6000 entries. The overall sound quality and range of this handset are commendable which gives a premium output owing to its noise filtering capabilities.