Hill Stations in India: Britishers developed most of the hill stations in India to get relief from excessive summer heat, around the central mall. Many have charming lakes as their crucial point, making the best places for boating and other activities. The best thing about these hill stations in India is that you will never get gore at these places. these hill stations are located all over the country. Adding some more adventure to these hill stations, toy train ride is also up to some of them. Here is a list of the most popular places in India. These hill station become a lot of crowded especially during summers. some quieter Hill stations are being mentioned:
Top 5 Hill Stations in India
1. Chamba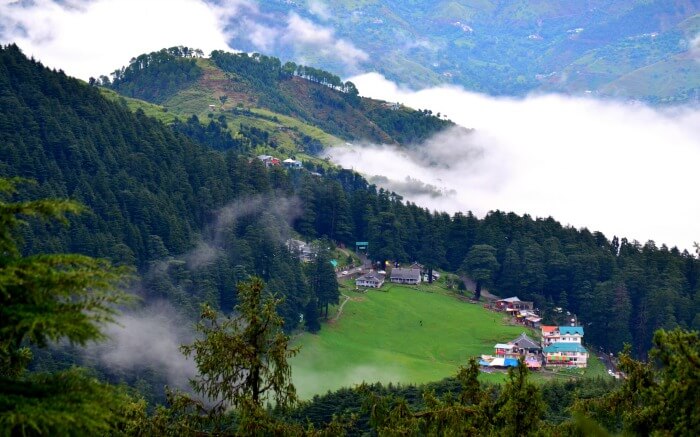 Chamba is a town in the Chamba district in the Himachal Pradesh, which is in northern India. According to the Indian census, the Chamba town is situated on the banks of the Ravi River (a major tributary of the Trans-Himalayan Indus River), at its convergence with the Sal River. Chambial were the Rulers of Chamba State, through which the name was given to this town. It is a very spiritual place as there are many temples to visit chamunda Devi temple, Chattradi temple, and Laxmi Narayan temple. People from different parts of India come here to visit these spiritual places.
Kalatop wildlife sanctuary is also located in Chamba and is a very decent place to visit with a pleasant atmosphere. You can also visit the Hudan valley and Chamera dam to have a good time. Chamba is also famous for the lakes like Manimesh lake and khajjiar lake and the lakes remain with icy water most of the year.
2. Shimla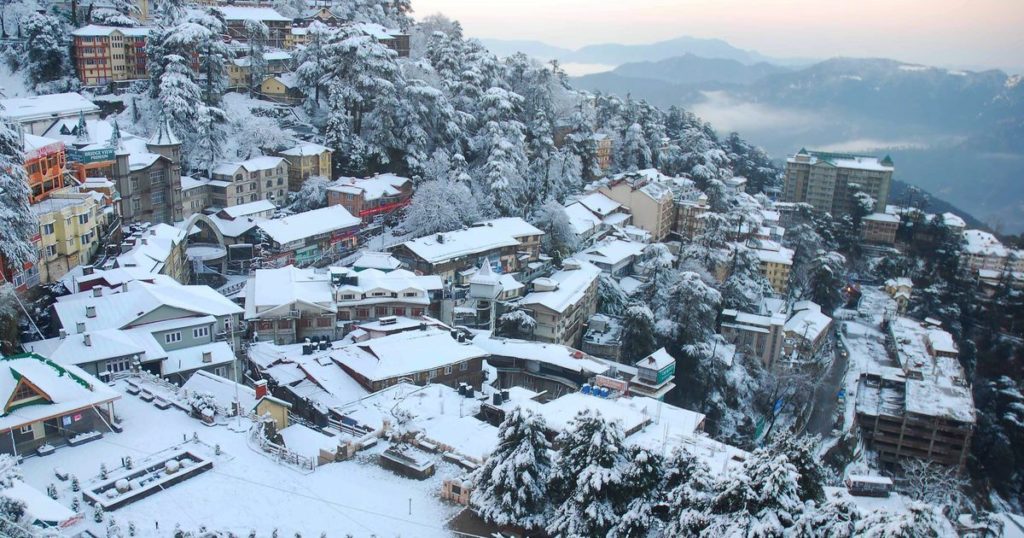 Beyond all the beautiful hill and scenes, Shimla is the most decent and best place to go with your family or with your girl. Shimla has many beautiful and famous places to visit. The most famous place to visit in Shimla is ridge which located on the mall road. There are many cafes bars restaurants nearby, but it is well known for shopping. Mall road is in the middle of the town. The second is the oldest Christ church which is located at 15 km from the main town, Kufri is also located nearby and is covered with snow throughout the year. If you are visiting Shimla you should not miss the chance of skiing on the mountains of Kufri and to take a ride on a scenic toy train that runs from Kalka to the main town.
Also read: Top 10 Himalayan Treks You Should Not Miss
Shimla is also famous for the world's biggest hanuman statue which is located called at 'jakhoo' temple. This statue is visible from the most parts of Shimla and a lot of people visit this temple to view this statue. 10 km away from the middle of Shimla is located a small and less explored town called Mashobra, most people come here to relax and to make their mind peaceful with meditation. You can also visit the Himachal bird park to discover the colourful and the vibrant collection of Himachal state birds 'the moral pheasant'. Tattapani is a small village which is located 51 km away from the main town and famous for its hot springs and for Shiva caves.
3. Manali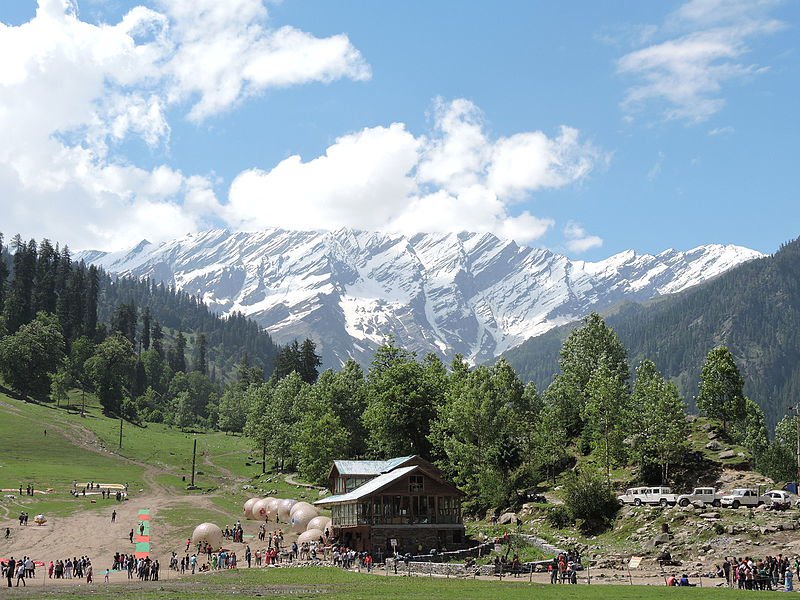 Manali is also known for its snowfall and a pleasant nature, the first place you should visit is the Solang valley which tends to be the famous place of Manali which is situated between the Beas kund and the Solang village. You can also visit the famous Hadimba temple which is away from all the hustle of the city, the place with peace and greenery with deodar trees everywhere. Skiing is also the best experience of visiting Manali, with the Chandratal Baralcha as the perfect destination for trekking filed with all the view of nature's beauty. You can visit the great Hampta pass, which is in the Manali region and serves as the appropriate for an enjoyable trek.
Manali is a spiritual place for some people as Manu temple is situated in Manali is said to be the only Manu (creator of human) temple in India. The sister town of Manali, Kullu is the mixture of adventure activities and beautiful landscapes. There is a new addition to the list of some national parks which is becoming one the things by which Manali is defined by.
4. Gangtok
Sikkim's capital, Gangtok, sits along a cloudy mountain edge about 5,500 feet above sea level. Sikkim became a part of India in 1975 and Before that Sikkim was a small self-governing Buddhist territory with its own monarchy after the Britishers ended their rule. Gangtok is a popular place for travel throughout the whole state, especially for the trekkers. Gangtok is a well-organized and clean city with strict littering, traffic laws. Proper tobacco laws are also followed here. It is a good place to visit as there are many monasteries, viewpoints, and a beautiful zoo that houses some rare animals rescued from dealers and poachers. The cable car is also a major attraction in Gangtok.
5. Kasol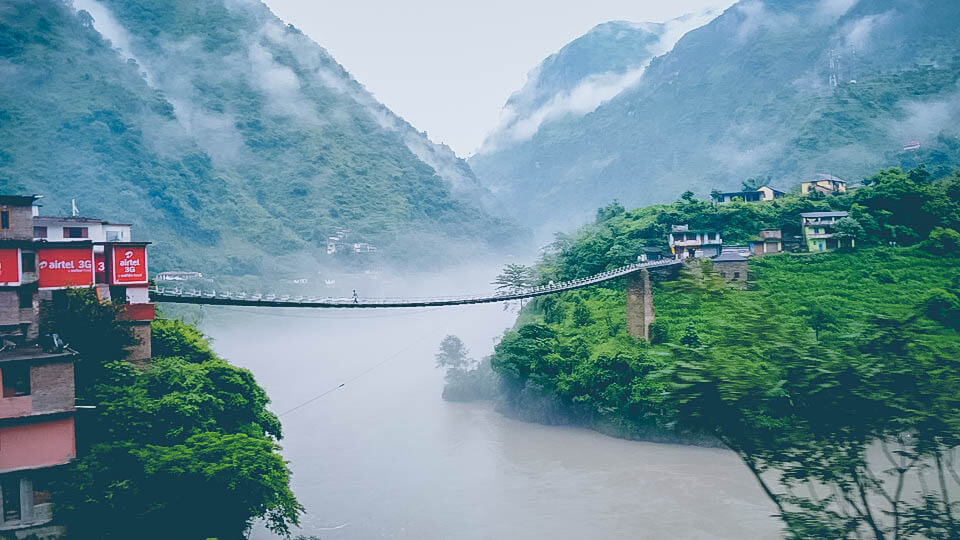 Away from all crowd and pollution, kasol is a small town located around 40 km from bhuntar. It is a very peaceful town with a pleasant environment. People from different parts of the country come to visit here as this place is popularly known for the rave parties and the best quality hash. The Parvati valley is going alongside the whole town. a lot of trekkers come to kasol to trek to Chalal and Tosh, they are a good place to trek and we can further extend the track to kheerganga, known for the hot water spring.
There are many small hotels and cafés to stay and a small market for shopping. If you are going to kasol, you should probably have the German baker's brownies and the hash cakes to have a trippy mind. You can further go to Gurudwara Shri Manikaran Sahib which is a spiritual place with a hot water spring.
You may also like to read the 10 Amazing places one in should visit in India once in a lifetime. Hope you enjoy the read. Keep watching this space for more interesting updates.