In a very unusual move, the very last eligible Kenyan white rhino bachelor has joined the Tinder app in search of a mate to continue its species. The rhino has debuted on the social platform at the age of 43. The white rhino goes by the name Sudan. It is a move by his human carers to raise funds for its breeding. Though it apparently looks like a cause for us to have a laugh at, it is no comic story.
Northern White Rhino
Sudan belongs to a sub-species of white rhinoceros – northern. Just three northern white rhinos are alive as of now – two female and one male – Sudan. They live in Ol Pejeta Conservancy in Nairobi, Kenya. Attempts to have natural breeding with the two females – 15-year-old Fatu and 25-year-old Najin failed following which the veterinary doctors are contemplating carrying out in-vitro fertilization as a last ditch attempt to save the species from extinction.
This pathetic situation has been brought about by poachers who indulge in mass hunting of the northern white rhinoceros for their horns. Reports indicate that the horns of white rhinos fetch a price of $ 50, 000 a kilo making it costlier than gold or even narcotic drugs like cocaine.
You may also like: Dinosaur footprints found in Australia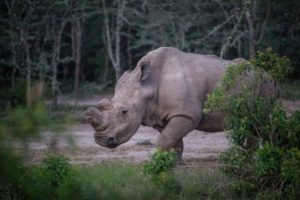 The Campaign to save the species
With the Northern White Rhinos facing certain extinction, the authorities are making an attempt at protecting these species by launching this campaign. Kenya's Ol Pejeta Conservancy in Nairobi has teamed up with Tinder, the dating app and has launched this campaign titled, 'The Most Eligible Bachelor in the World'. They are also looking for a match across the globe.
The special website devoted to this campaign says that they intend to raise $ 9 million to protect the northern white rhino from extinction. The website also makes it evident that the funds would be used to conduct research into Assisted Reproductive Techniques (ART) by a consortium of institutions. They feel that this technology if it works, will help build up the population of northern white rhinos.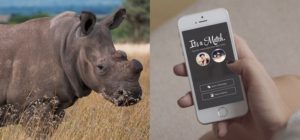 Sudan's Tinder Profile
Sudan's profile in Tinder is pretty humorous. It says, "I don't mean to be too forward, but the fate of my species literally depends on me.". "I perform well under pressure. I like to eat grass and chill in the mud. No problems. 6-ft-tall and 5,000 pounds if it matters."
With Tinder having a presence in over 190 countries and accommodating over 40 different languages, Sudan's profile has become the center of attraction to the users of Tinder. We have to wait and see whether Sudan finds a suitable partner through Tinder. But this story has already become viral and attracted the attention of people all across the world. It is sure that very soon, Ol Pejeta Conservancy will raise the funds necessary to aid the IVF treatment for Sudan. Then Sudan will be on his way to breed his species. In fact, the users of Tinder have swiped this eligible bachelor's profile to the right so much that the donation site crashed within hours of his profile going live.
Do have a look at Sudan and donate to the foundation so that he may find a mate:
[embedyt] https://www.youtube.com/watch?v=uoTLgXlQ5bs[/embedyt]